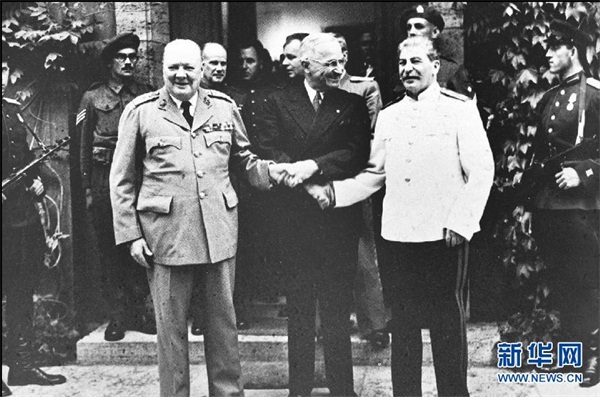 File photo shows Winston Churchill (L), Harry S. Truman (C) and Joseph Stalin (R) at the Potsdam Conference in July 1945. The Potsdam Declaration, which outlined the terms of surrender for Japan during World War II in Asia, was issued on July 26, 1945. (Source: xinhuanet.com/photo)
Yesterday marked the 70th anniversary of the Potsdam Declaration, which was issued by the United States, the United Kingdom and China in 1945 demanding Japan's unconditional surrender in World War II. As a cornerstone of the post-war international order and Japan's pacifist Constitution, the document makes it clear that the war Japan waged more than 70 years ago was an act of aggression.
Ironically, when asked to comment on this point in the Potsdam Declaration two months ago, Japanese Prime Minister Shinzo Abe refused to do so, saying he did not notice it in the declaration and could not say whether the war was right or wrong. He even retorted that accepting the declaration was just a way that Japan ended the war.
No surprisingly, Abe's ambiguous attitude is in line with his earlier efforts to weaken the worldwide consensus that Japan was an invader before and during WWII. During his first tenure as the prime minister from 2006 to 2007, he had claimed to get rid of the postwar system, which began with the issuance of the Potsdam Declaration.
It is possible that Abe has not paid enough attention to the declaration as much as he should have as Japan's prime minister. But his desperate moves in recent times, such as denying Japan's wartime invasions and muscling through the new security bills, pose a direct challenge to former Japanese prime minister Tomiichi Murayama who rendered a "heartfelt apology" in 1995 for the wartime damage and sufferings caused by Japan.
Addressing hundreds of protesters on a street near the Japanese parliament building on Thursday, Murayama, now 91, condemned the Abe administration's move to push the security bills, and termed them intolerable. He also said the Abe administration's arrogant disrespect of public will was unforgivable.
Facing rising opposition from peace-loving Japanese politicians, scholars and ordinary citizens, the Abe administration made intensive efforts - such as using the China threat" theory - to arouse nationalism and railroad the security bills through parliament.
Seeing China as a tolerant major power and an imaginary enemy, right-wing politicians like Abe have sought to contain it in various ways. Japan's latest defense white paper in which it accuses China of raising tensions in the East China Sea and South China Sea, for instance, indicates Japan is about to relinquish its pacifist development model and become a mighty military power again.
But facts show Abe is leading Japan further away from true national independence. Japan is supposed to cooperate with China and contribute more to regional stability and prosperity. Instead, it has become subordinate to the US and a troublemaker in Asia, exposing its people to the dangers of a regional war.
Indeed, China is committed to helping integrate the Asia-Pacific region through its "Belt and Road Initiative". But it, along with some of its Asian neighbors like the Republic of Korea, will not sit idle while Abe's rightist moves continue to threaten the neighborhood. China and its neighbors that suffered Japanese invasions and atrocities are obliged to help all peace-loving Japanese people see what their leader is really up to, and support their fight against Abe remilitarization efforts.
The author is a researcher on Japan studies at the Chinese Academy of Social Sciences.