Editor's note: Many Chinese parents believe the English language should be taught to their children as early as possible. They spend big money and send their children, in some cases as young as 2 or 3, to English training centers. But how effective is early childhood foreign language instruction? You're welcome to leave your comments.
DaqingDevil (Australia)
Learning another language should be started as early as possible but early age learning should be done in a fun environment. I teach English to one group of children aged 4 and another group aged 6 at the moment as part of my schedule. My class is made up of pronunciation, letter oriented cartoon videos like Story Bots and ABC Mouse, games and songs. I have them for two half hour sessions in a row, so one hour. The challenge isn't teaching them, the real challenge is capturing and retaining their attention.
I spoke Hungarian from birth to 5 years old, every day at home. Then I didn't speak it for 48 years. I then visited Budapest and within 2 weeks I spoke it so well the locals thought I was a native Hungarian! What you learn at an early age never leaves you!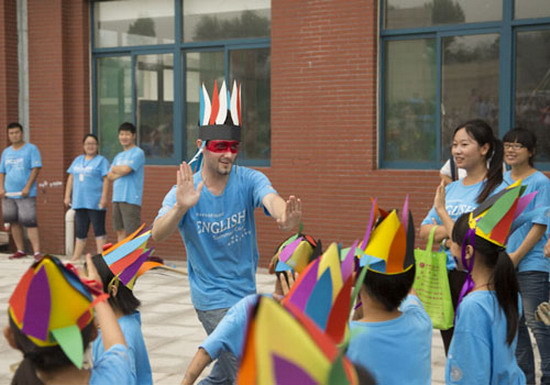 Foreign teacher dances with students, at the 2nd international English summer camp hosted in Xiuwen international academy, during July 11-24, at the city of Zibo, Shandong province.[Photo/Xinhua]