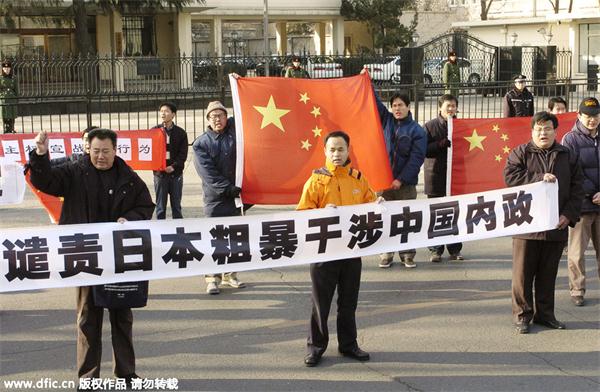 About 30 people demonstrate outside the Japanese Embassy in Beijing on Dec. 20 to protest Japan's plan to give former Taiwan President Lee Teng-hui a visa. [Photo/IC]
During his latest visit to Japan, former Taiwan leader Lee Teng-hui in his 90s again denied the One-China policy, claiming that the Diaoyu Islands belong to Japan and the country's new security bills are conducive to Asian stability. China on Friday voiced grave concern and strong dissatisfaction over Japan's decision to allow the "stubborn Taiwan separatist" to visit Japan. Comments:
What Lee said in Japan has made compatriots from both sides of the Taiwan Straits see more clearly the extreme harm "Taiwan independence" forces do to the peaceful development of the cross-Straits relations and the integral interests of the Chinese nation. Li's remarks about "Taiwan independence" and his praise of Japan's colonization of Taiwan will surely be scorned by compatriots on both sides of the Straits.
Ma Xiaoguang, spokesman for the State Council Taiwan Affairs Office, July 24
By flexing its muscles through the new security bills, Japanese Prime Minister Shinzo Abe once again deals a blow to Japan's relationship with China and the Republic of Korea. Lee's endorsement is unlikely to alleviate Japanese people's concern over the bills.
china.com.cn, July 26
Lee Teng-hui as a diehard Taiwan separatist has had a strong obsession with Japan throughout his life. Despite his advanced age of 92, Lee still went to Japan, desperately dreaming to expand his political influence. But his shameful and pathetic efforts will get him nowhere because it is no longer his time.
Wang Jianmin, a researcher at the Institute of Taiwan Studies, Chinese Academy of Social Sciences, July 23
An outdated Taiwan politician, Lee is seeking to exert his own influence on the political situation in Taiwan by reiterating his separatist stance in Japan. He knew that his remarks if made in Taiwan would not be reported, but would be sensational when made in Japan. There is the danger that his preposterous remarks may mislead some Taiwan youths who are yet to form their own judgment of the world and history.
Yan Anlin, a researcher at the Shanghai Institutes for International Studies, July 24