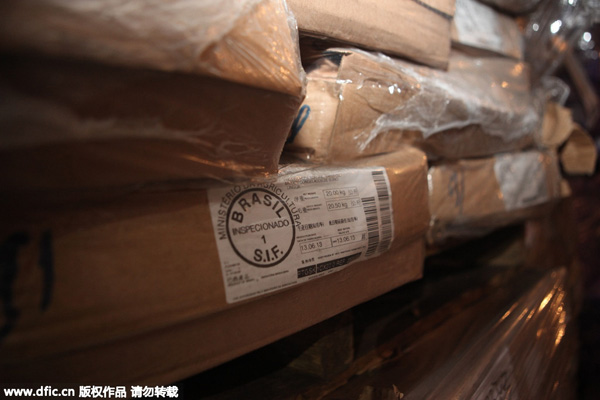 A warehouse storing smuggled frozen meat has been seized in Shenzhou, South China's Guangdong province in this file photo. Photo taken on April 15, 2015. [Photo/IC]
The "zombie meat" scandal has transformed into war of words between two journalists and their followers on the Internet. Beijing-based technology journalist Hong Guangyu cast doubts on a previous Xinhua report that said customs officials in the Guangxi Zhuang autonomous region had seized smuggled frozen meat, some of which was up to 40 years old. After calling four officials, Hong challenged the details of the "zombie meat" story. Xinhua journalist Li Dan responded by claiming his report was authentic without saying how old the seized consignment of meat was.
Given the controversy, the two journalists have to give some clear answers to the people.
Both journalists and the netizens who have joined the debate agree on the significance of food safety, because the expired smuggled frozen meat posed a threat to people's health.
For long, Chinese consumers have been voicing concern over food scandals — from expired food products and gutter oil to poisoned rice. On the one hand, this indicates rising public awareness of health issues. On the other, this shows how arduous the authorities' task of tackling the food safety problem is.
But the smuggled frozen meat scandal should prompt the authorities into action. They can no longer afford to keep silent or just send out paradoxical signals on whether the meat had been frozen since the 1970s or 1980s. Hong's question is not groundless: How could the smugglers have stored the expired meat for such a long time at such a low cost?
On July 12, the national food and drug supervising body said customs and related officials had solved some smuggling cases and seized smuggled meat, including some frozen four or five years ago. In the Xinhua report, an anonymous law enforcing officer said the meat had been frozen in the "1960s and 1970s", leading to the term "zombie meat".
Some people say the public should not get lost in the argument over the age of the "zombie meat" because all expired frozen meat, smuggled or not, is harmful to human health. By getting involved in such arguments, people tend to miss the point. For ordinary consumers, meat frozen four decades ago is apparently a greater health hazard than that frozen, say, four years ago. But the fact that, if such aged expired meat could enter the market, it would show there is a big loophole in the food safety supervision system.
If the authorities don't have evidence of such zombie meat, they should not present the story in way that allows journalists to look at the worst case scenario, because that could spread panic among the people.
People are waiting for the authorities to explain the "zombie meat" scandal. And the authorities are obliged to provide clear answers, based on scientific tests, on this case and more importantly, prevent similar cases in the future.