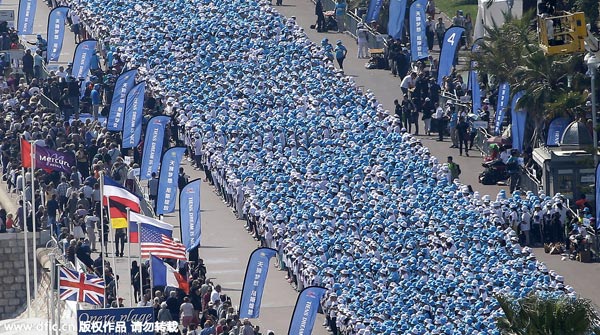 Employees of China's Tiens Group attend a parade organized by CEO Li Jinyuan as part of a four-day celebration weekend for the 20th anniversary of his company, on the Promenade des Anglais, Nice, southeastern France, May 8, 2015. [Photo/IC]
In organizing a 6,000-person tourist group to France, the company is not arranging a leisure tour for its employees, but a publicity campaign for itself, says an article in Beijing News. Excerpts:
The direct-selling enterprise booked 84 flights and 140 hotels for this biggest- ever group that France has handled. It meant the department store had to prepare enough goods for the company's employees,and that the Louvre Museum only served this group of tourists in one day.
On May 8, this group of tourists in the same blue-and-white clothes formed the enterprise's brand name in the street in Nice, a Mediterranean coastal city in France, amid mixed feelings from locals and the other tourists.
But the French government and business people may welcome such unusual visitors, because they bring money with them, and contribute to the lackluster French economy. The French foreign minister even met with the enterprise's president amid controversy.
China is an important source of tourists for France. As the French government attaches great importance to its tourism market, as long as the Chinese tourist group does not violate local laws, and the value and the new jobs they generate are in France, they are welcome by local government and business communities.
In this sense, the Chinese at home need not worry so much about the tourist group's negative influence on the national image of China. And the people should not see it as a tour, but a publicity activity organized by the company.
Direct selling enterprises constantly need to resort to some eye-catching activities to attract new employees, because they always loose workers, who are also customers. It is almost predictable that the enterprise will use this media sensation to employ more new workers when they come back to China.
It is the business model for the direct selling enterprises. They have the freedom and space to do their business, irrespective of the controversies they cause.