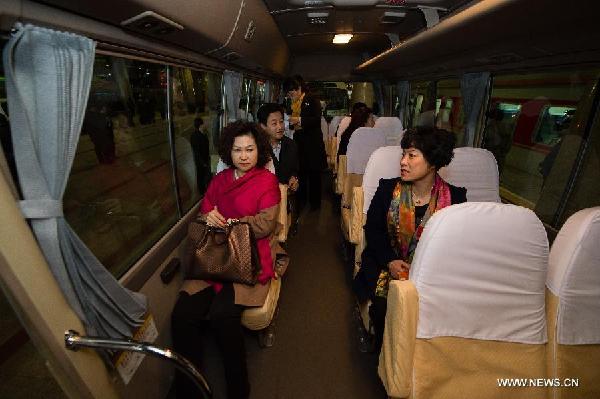 Deputies to China's 12th National People's Congress (NPC) from north China's Inner Mongolia autonomous region take a bus to their hotel in Beijing, capital of China, March 2, 2015.
World attention is again on the current sessions of the National People's Congress and the National Committee of the Chinese People's Political Consultative Conference, with much speculation about what reforms will be set in motion by the annual meetings, says a People's Daily article.
This year there are more expectations for reforms in China given that it marks a crucial year for deepening reforms, and it is also the concluding year of the 12th Five-Year Plan (2011-15) for national economic and social development.
The "Four Comprehensives" put forward by Party chief Xi Jinping - to comprehensively build a well-off society, to comprehensively deepen reforms, to comprehensively promote the rule of law and to comprehensively push for stricter governance of the Party - have attracted the world's attention. The Associated Press said the "Four Comprehensives" will put forward China's development goals and outlook. The Financial Times believes that China's reforms have entered a crucial year and a "year of fulfillment".
China made unprecedented efforts to advance reforms in 2014. The 80 key reforms mapped out by top decision-makers have basically been finished and another 370 reform measures have also been taken.
Comprehensively deepening reform will lay a foundation for an all-new China with sustainable development, reasonable economic growth, environmental friendliness and proper care for the disadvantaged. And as Robert Zoellick, former president of the World Bank, said no matter whether it is Singapore, members of the Association of Southeast Asian Nations, Europe or the United States, all to a certain degree depend on China's reform fruits.
The message transmitted from the ongoing NPC and CPPCC National Committee sessions is sure to send positive energy for cooperation and win-win results to the outside world.