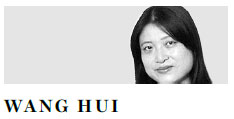 And the good news was not only about fireworks. The National Tourism Administration observed that reports about uncivilized behavior of Chinese tourists had significantly decreased this year.
According to the national watchdog of the tourism sector, due to bad weather many flights were delayed during the holiday season, but passengers remained unperturbed and no unsavory incidents were reported. Feedback from tourist agencies operating outbound trips during the same period also found that improper behavior such as spitting, littering and talking loudly in public was down by a big margin.
A report on Chinese travelers' behavior abroad published in January by Ctrip, a Nasdaq-listed travel service company, stated that while most of the 1 million tourists using its package or independent tour services to travel overseas do abide by local regulations, unwelcome behavior accounted for one in every 10,000.
Yet for the world's largest source of outbound travel, even a very small percentage is enough to cause concern.
Mindful that the Lunar New Year would arouse unparalleled zeal for travel and trips, media in the country had called for tourists and travelers to watch out their manners even before the festival began.
In hindsight, such warnings and introspection were useful as they helped cultivate a healthy awareness of a more civilized way of celebrating the festival, including more rational spending, good behavior in public places and even a healthy diet.
Small steps from each individual will enable big strides for the nation. The changes in witnessed during this year's Spring Festival will certainly make the next one even better.
The author is a senior writer with China Daily
wanghui@chinadaily.com.cn