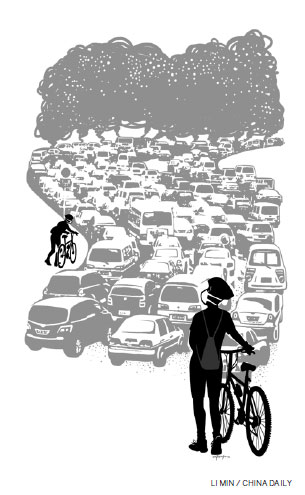 Heavy smog did not stop thousands of people from taking part in the Beijing Marathon on Oct 19, and although the participants and fans ignored the alleged health threat, the event has sparked a public debate.
With an ever-rising health awareness among the public in recent years, the number of runners on the streets in China has been increasing steadily, with more than 20 Chinese cities holding annual marathons. Correspondingly, the number of cyclists too is on the increase, with the sales of high-grade and semi-specialized bikes rising on a daily basis. In fact, outdoor and adventure activities such as walking, skiing, mountaineering, and even rock-climbing and paragliding have become part of some Chinese people's daily life.
Keeping in mind this welcome increase in people's health consciousness, the State Council, or the Cabinet, issued a guideline on Oct 20 aimed at expediting the development of the sports industry and boosting the sale of sports products. Some experts have already termed the guideline as a national strategy for mass fitness movement.
China's booming competitive sports, as indicated by the huge number of medals that Chinese athletes regularly win at international events, including the Olympics, have undoubtedly helped the cause of sports in China. It can be said that China's developments in the economic and sports fields have kept pace with each other since the launching of the reform and opening-up more than three decades ago. Some even say that the sports industry has been spearheading social reforms in the country.
Nevertheless, the country does not fare well on some awkward indexes. Statistics up to 2012 indicate that the physical health of Chinese teenagers declined for 25 consecutive years - a sharp contrast to China's magnificent rise in the competitive sports during the same period. Competitive sports have nurtured generations of "sports fans", but failed to spur most of them to take part in actual sports. Behind this strange phenomenon is the lack of a correct national outlook on sports education.