Probes into both domestic and foreign-funded enterprises are push for a more regulated market order and maturer mechanisms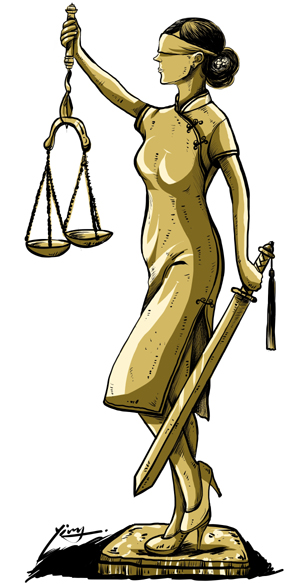 Twelve Japanese auto parts and ball-bearing makers were fined nearly 1.24 billion yuan ($201 million) on Wednesday for price fixing and monopolistic activities. It is the largest fine imposed on companies since the National Development and Reform Commission and State Administration for Industry and Commerce launched the anti-trust probes, which have also covered enterprises such as Microsoft, Mercedes-Benz, BMW and Audi apart from domestic brands.
Since most of the companies penalized are globally renowned, some foreign media outlets have accused China of targeting foreign enterprises. But the fact is the anti-trust move includes domestic and foreign companies and is aimed at building a healthy market.
Although China introduced the Anti-Monopoly Law six years ago, its enforcement has up to now been weak. It was only in 2013 that the NDRC intensified its anti-trust probes to create a level playing field for domestic and overseas enterprises, and promote fair competition. Fair competition is the precondition for effective allocation of resources in the market. From the perspective of economics, monopoly of a market can neither eliminate competition nor develop itself for long. Only with effective regulation on monopoly and monitoring of market activities can order be maintained in a fair and healthy market - and this is true for markets in Western countries as well as in China.
China's market supervision mechanism is not foolproof, and monopoly can evolve through unfair measures in market competition. Some companies have used their advantages in resources and market access to push up the prices of their products and/or increase their sales, which have not only thwarted fair competition but also affected the allocation of resources in the market.
For example, Audi, one of the companies facing an anti-trust probe, used to call meetings and force the 10 4S showrooms in Hubei province to comply with its pricing strategy and the showrooms had to agree to the product and services costs. Such monopolistic activity made fair competition among auto manufacturers and dealers impossible, violated consumers' rights and harmed China's auto industry. But after the anti-trust probes intensified, many high-end auto brands have been forced to reduce prices, this has helped restore some order in the market and facilitated fairer competition.
But the anti-trust probes are not just targeted at overseas companies. This is proved by the fact a huge fine - 451 million yuan - was imposed on China's two top liquor makers, Kweichow Moutai and Wuliangye Yibin Group, last year. The reason some people may suspect that the probes target foreign companies is that most enterprises under investigation command a considerable market share in developed countries.