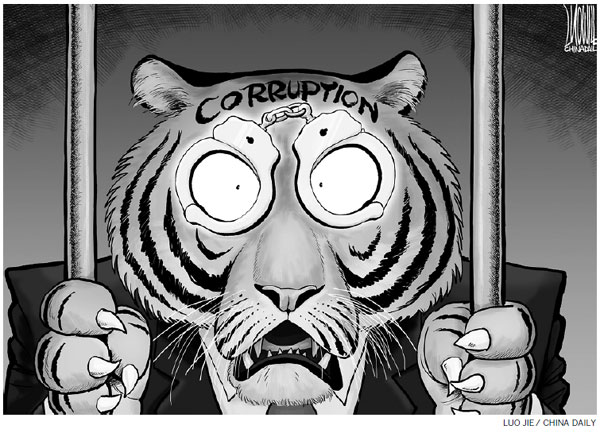 Lay foundation for rule of law
The news that Zhou Yongkang, until recently one of the most powerful men in China, is to be investigated for suspected "serious disciplinary violations" is the clearest indication yet of the top leader Xi Jinping's determination to tackle corruption by rooting out the "tigers as well as flies".
Until he retired in 2012, Zhou was the top security chief and a member of the Politburo Standing Committee. He is the most senior Chinese official to be investigated since the "Gang of Four" were brought to justice in the early 1980s.
Last year, a rising political star Bo Xilai was put on trial and convicted of corruption. The Party has already said it is investigating several more officials suspected of corruption, including Jiang Jiemin, who was in charge of the State-owned Assets Supervision and Administration Commission until last September. Jiang was previously chairman of the State-owned China National Petroleum Corp where Zhou also worked. Last month, the Party said one of its most senior former military officers, Xu Caihou, was being court-martialed for corruption.
These arrests and investigations are a clear sign that the top leader Xi is serious about tackling corruption within the Party. He has repeatedly warned that corruption could threaten the Party's very survival. It is no coincidence that as Zhou's investigation was made public, the Party announced that the Fourth Plenary Session of the 18th Communist Party of China Central Committee will focus on promoting the rule of law.
The Chinese perception of the rule of law, however, is not the same as Western perceptions. The rule of law still operates under the overall authority of the CPC while in Western countries there is a separation between the executive and judicial branches.
The anti-corruption campaign and the downfall of Zhou should not hinder China's stability and economic development. To date there have been 30-plus cases involving senior Party officials with many more at local levels. But Xi is determined to enhance trust in the Party that has been eroded over the years due largely to local officials taking bribes for real estate development. Many top restaurants are suffering a loss in business as Party "bosses" are forced to cut back on entertainment. But the anti-corruption campaign is popular with ordinary citizens who are increasingly calling for greater protection under the rule of law.
A more stable and predictable economic environment with greater prominence for the rule of law should encourage more foreign investment. Western businessmen will hope that these latest developments will also herald a more open and transparent business climate in China in which corruption is greatly reduced if not exactly eradicated.
Fraser Cameron is director of the EU-Asia Centre.