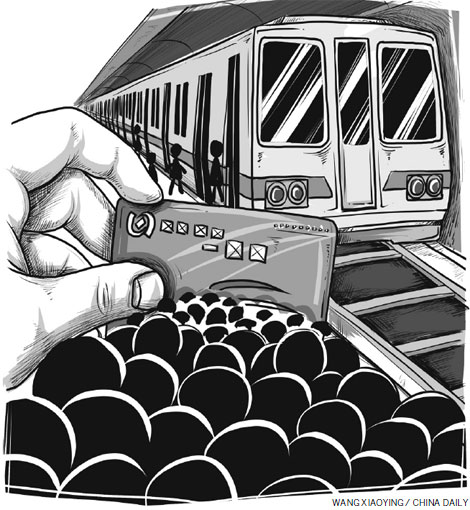 The Beijing municipal commission of development and reform is soliciting public opinion on whether fares for public transportation should be raised. For many Beijing residents, the 18-day (from July 3 to 20) exercise signals the end of the city's "low fare public transport system".
That more than 22,000 people have submitted over 37,000 suggestions in a week reflects the wide public concern over fare hikes and the complex nature of the issue.
Public transport fares in Beijing have been the lowest in the country since before the 2008 Olympic Games, when city authorities tried to encourage people to use public transport in order to ease traffic jams and reduce air pollution. Ordinary passengers using a public transport pass pay a meager 0.4 yuan ($0.06) for a bus ride while students pay even less - just 0.2 yuan - and the subway fare is a uniform 2 yuan. Public transport fares have remained unchanged in Beijing over the past seven years despite people's increasing incomes, rising inflation and constantly widening and lengthening of the city's public transport system.
The city's public transport system has been incurring losses for the past few years and filling its fiscal gap with the subsidies received from the municipal government. The truth is that, without the subsidies it would be impossible to run the transport system. According to Beijing municipal commission of development and reform figures, the operating income of Beijing subway in 2007 was 1.18 billion yuan against an expenditure of 1.34 billion yuan. In 2013, the operating income did increase nearly threefold - to 3.22 billion yuan - but then the expenditure rose more than fivefold - to 6.68 billion yuan.
The losses suffered by Beijing's bus service are even more serious. Its annual income dropped from 3.09 billion yuan in 2007 to 2.59 billion in 2013 while its expenditure jumped from 8.88 billion yuan to 17.62 billion yuan. In 2012 public transport accounted for an estimated 7.9 percent of Beijing's municipal fiscal expenditure in people's livelihood, much higher than that on medical and health services. Ma Boyi, spokesman for the transport administration bureau of Beijing municipal commission of public transport, recently told People's Daily that the losses incurred by the public transport system have become a huge obstacle on the road to sustainable development.