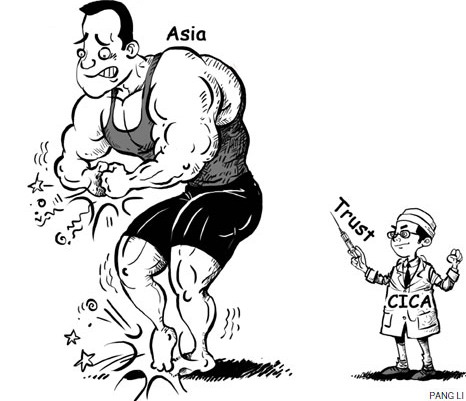 Editor's Note: At a recent seminar at China Institute of International Studies, some scholars discussed the traditional and non-traditional security challenges facing China and Asia, and suggested ways to improve security cooperation in the region, which could be important for the upcoming Conference on Interaction and Confidence-Building Measures in Asia. Following are excerpts from their speeches:
Two key phrases can be used to describe today's Asia - economic growth and security dilemma - which paradoxically accompany each other.
In economic terms, Asian countries are experiencing unprecedented integration of interests and economic interdependence. In particular, after the 2008 global financial crisis, Asian nations realized the importance of working together for a prosperous future.
As a regional power in Asia, China is working to establish win-win ties with other countries, which will also help maintain regional stability. China and the United States agreed to build a "new type of major-power relationship" last year, which features cooperation, mutual respect and non-confrontation. China has also deepened its strategic partnership with Russia. Besides, the Chinese and Indian heads of government exchanged visits in 2013, when the Republic of Korea president also visited China.
However, the region, especially East Asia still faces very serious traditional security challenges. While confrontation on the Korea Peninsula continues, maritime territorial disputes have intensified between China and Japan, Russia and Japan, the ROK and Japan, as well as between China and some Southeast Asian countries. To make things worse, the US' alliance with some Asian countries and Japan's militarist policies are posing a threat to peace and stability in the Asia-Pacific region.
A deeper analysis will show how the US' Cold War mentality is behind almost all these problems. To solve them, it is necessary for major countries to cooperate to build a peaceful, stable and cooperative Asia. But to do that, they have to abandon their Cold War mentality, because it is impossible to cope with the challenges of the 21st century by having a 20th century mindset.
China has been making efforts to solve those problems. For example, Shanghai will host the Conference on Interaction and Confidence-Building Measures in Asia, whose theme will be "shaping the future through Asia-Pacific partnership". The conference will promote a new sense of security and encourage participants to discuss common, comprehensive, cooperative and sustainable security, so as to form new structures for security and cooperation in Asia.
Ruan Zongze, vice-director of China Institute of International Studies.