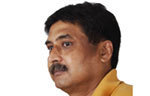 India has voted in a new government under new leader. The 10-year-old Congress party-led United Progressive Alliance government will be succeeded by the right-wing Bharatiya Janata Party-led National Democratic Alliance. Many in India see this as a victory for development and governance, which the BJP so vehemently used as its main campaign plank in the general election.
The BJP projected its prime ministerial candidate Narendra Modi (who could be sworn in as India's new head of government on May 20) as a strong, decisive leader who, among other things, could revive India's economy and create enough jobs for the country's youths. Surprisingly, the voters bit the bait and voted to give the BJP-led NDA an overwhelming majority in parliament.
It's a different matter that reviving a country's economy and creating enough jobs for its youths don't depend on a leader or party alone. They depend on whether the fundamentals of the Indian economy are strong enough to spring back to fast-paced growth. They depend also on whether the country's development has touched (rather benefited) every layer of society — for an economy that has made the rich richer and the poor poorer cannot be sustainable in the long run.
But these facts seem to have been given the short shrift by the so-called economic (and media) pundits who declared the BJP the winner of the election much before the results were declared on May 16. They portrayed Modi, in the run-up to the election, as an omnipotent figure capable of transforming India's fate in the same way that he had changed the development paradigm of Gujarat, the province he governed for 13 years. Gujarat was projected by the Indian media as a model province, an el dorado where nothing could go wrong.
The pollsters, psephologists and media pundits projected Modi as a wizard whose magic wand had turned the province of Gujarat into what mainstream economists would refer to as the "promised land". All of a sudden, everyone started swearing by the "Gujarat model" of development.
Apart from deliberately forgetting the fact that Gujarat had always been one of the most prosperous Indian provinces, what the economists and media pundits also ignored is that despite its economic success, the province measures poorly on the human development index (HDI). In the UN Development Programme's inequality adjusted HDI (2011), Gujarat ranked ninth in education and 10th in health among 19 major Indian provinces. On gains in the HDI (1999-2008), Gujarat was 18th among 23 provinces. And in the first India State Hunger Index (2009) Gujarat was 13th out of 17 provinces.