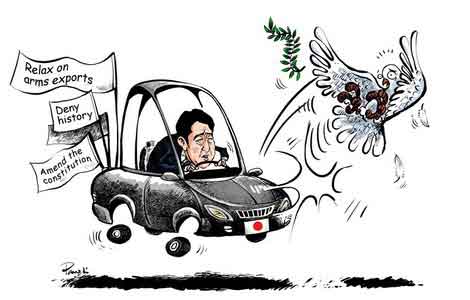 China as victim of Japanese aggression has every reason to show concern that Japan is renewing arms exports
The Japanese cabinet on April 1 approved eased principles and guidelines on the transfer of defense equipment to replace the country's original Three Principles on Arms Exports. The Japanese government's "success" in renewing arms exports after decades of an absolute ban on the trade of defense equipment and technologies marks a major change in the country's defense and security policy and suggests that the Shinzo Abe cabinet has made an important step toward turning the country into a military power.
In order to realize the goal of making Japan a "normal military power" and restoring its "missing" national security defense mechanism and function, Japanese conservatives over the years have seen the country's self-imposed ban on security policy formed after World War II as a stumbling block or an "inhibiting magic phrase" and are eager to lift the restraints.
Among these restrictions, in addition to the "pacifist Constitution", prohibition on the exercise of the "right to collective self-defense", civilian control of the forces and the "purely defensive" defense policy, and the Three Principles on Arms Exports adopted in 1967 have been seen as an important symbol of the country's pacifist stance.
Japan's efforts to ease and lift its arms export ban is not a recent development. Since the original three principles turned into a virtual ban in 1976, Japan has clinched 21 business deals involving the production of fighter planes, missile defense cooperation programs and vessel exports through temporary measures. Japanese political groups eager to lift the ban argue that it will be of great importance to the country's national defense industry, the strength of the US-Japan alliance and relations with friendly countries, and for it to counterbalance China, if the country engage in arms exports and carry out joint development of defense equipment and technology with other countries like a normal state.
In order to reduce questioning and criticism of the new arms export policy both at home and abroad, the Abe cabinet has been handling the matter with painstaking care and has adopted an ostrich-like approach. The new three principles first prohibit Japan from exporting arms to countries involved in conflict and to those that violate UN resolutions and state that with strict screening and data disclosure, arms exports will be allowed only if they serve the purpose of contributing to international cooperation and Japan's security interests.