The Decision on Major Issues Concerning Comprehensively Deepening Reforms, passed by the Third Plenary Session of the 18th Communist Party of China Central Committee, talks about three areas of military reform: reforming the leadership mechanism, optimizing the size and structure of the armed forces, and developing a more comprehensive education system to cultivate military talents.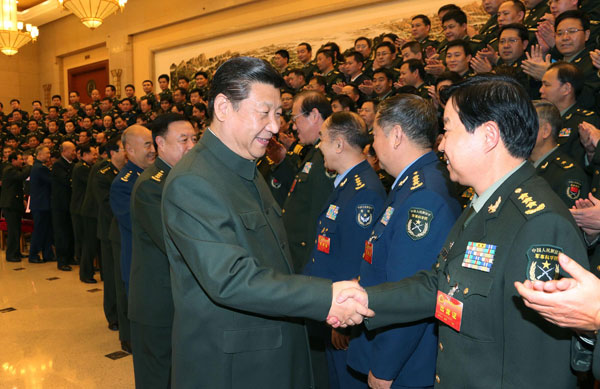 President Xi Jinping (L, front), also general secretary of the Communist Party of China (CPC) Central Committee and chairman of the Central Military Commission, meets with delegates of the People's Liberation Army (PLA) attending a seminar on Party building, in Beijing, Nov 6, 2013. [Photo / Xinhua]
While all the three areas of the intended reform reflect the CPC's determination to build a military that would meet China's strategic needs and follow global trends, the second one is of special importance. China may have the largest military (2.3 million strong) in the world but its structure needs to undergo reform to better meet the changing needs of national defense. And contrary to the "China military threat" theory, the largest military is the result of low level of military modernization and the country's large population.
Despite being large in size, the Chinese military ranks quite low compared with other countries in terms of representation vis-a-vis the total population. In China, only 17 out of every 10,000 people are part of the military, whereas the equation in the United States is 45 out of every 10,000 people. Even in Japan, which claims to have only self-defense forces because of its Pacifist Constitution, 19 out of every 10,000 people are part of the "military".
After the process to optimize the military structure is complete, the number of Chinese military personnel may gradually shrink. But the time needed to achieve modernization and equip the military with high technology will slow the process of reducing its number. Besides, it will not be an easy task to reduce the number of non-combat personnel given their involvement in a wide range of areas.