Diplomatic activities have demonstrated China's sincerity in seeking harmonious relations with neighboring countries
Over the past year major steps have been taken in the diplomatic field. From the geopolitical perspective they highlight China's periphery strategy.
Obviously, it is of vital importance for a country's security and development that it devise and implement a periphery strategy. As the saying goes, "one can choose one's friends, but one cannot choose one's neighbors." Therefore, in essence, a state can take the initiative to improve its peripheral environment and should not just passively accept it.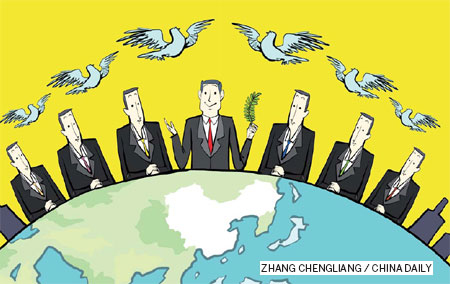 Some diplomatic activities have already been undertaken, which show that China's new leadership are proactively engaging in periphery diplomacy. China's top leaders have visited a number of neighboring countries in their first year in office. In March, President Xi Jinping made Russia his first destination after taking office. China and Russia have a lot in common, including strategic interests, challenges and international responsibilities. Their economies are complementary to one another, and they are moving toward a more mature and far-reaching cooperative direction. Premier Li Keqiang visited India and Pakistan in May; while Xi visited five Central Asian countries in September and attended the Asia-Pacific Economic Cooperation summit held in Bali, Indonesia. Premier Li subsequently attended the East Asia Summit held in Brunei, and then paid friendly visits to Thailand and Vietnam.
Then on October 24 and 25, a high level meeting dedicated to periphery diplomacy was held in Beijing, focusing on the top-level design of China's peripheral diplomatic strategy. And it was announced this month that a state security committee is to be established in order to improve the organizational structure and thus effectiveness of the nation's foreign policy and implementation.
Why has the Chinese government invested so much effort and resources in periphery diplomacy? There are three main reasons for this.