Few diplomats have made news like Gary F. Locke. So the news that the US ambassador to China will leave office early next year has attracted widespread media attention, not different from that seen when he was chosen to take up the post two years ago.
Although China's Foreign Ministry has praised Locke's efforts to improve China-US ties, perhaps his least controversial achievement is the reduction in the waiting time for visa for Chinese applicants.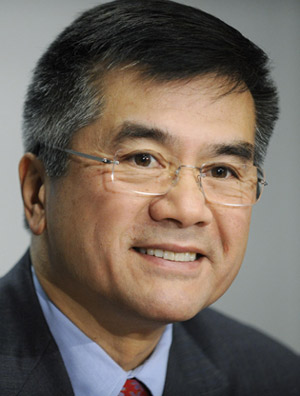 File Photo /

Agencies
However, the controversies surrounding Locke - from his PM2.5 squabble on air pollution and some Chinese breaking into the US embassy to the US surveillance in Chinese cities - were less because of his working style or personality and more because of the contradictions in China-US relations.
Locke's posting in China coincided with the high-profile "pivot to Asia" strategic policy that the US launched in late 2011. And Locke-related news often sparked heated debates because of the growing China-US trust deficit owing to the "pivot to Asia" policy.
Before Locke's arrival, the Chinese media pinned high hopes on the first Chinese American ambassador to China. That Locke was also the first Chinese American governor of a state and secretary of commerce added to the expectations. In American society where Asian Americans are a fragmented group with low political participation, Locke's life from a poor third-generation migrants' family to a Yale graduate and eventually a political star is the stuff that the American Dream is made of, which emphasizes equality, opportunity and individual struggle.
However, Locke's low-key arrival in China triggered speculations. His simple, frugal lifestyle - reflected in buying coffee with coupons, business trips in economic class, and refusal to be put up in five-star hotels - divided the Chinese media. Some media outlets hailed him for his low-key style which contrasted with some Chinese officials' luxurious lifestyle, while others accused him of doing so to "shame" Chinese officials.