China and the US are developing a new model for relations between major countries that aims to avoid confrontation
This year relations between China and the United States stand at a new starting point.
The historic meeting between President Xi Jinping and US President Barack Obama at the Annenberg Estate in California in June was not only the first face-to-face discussion between them as heads of state, but also an innovation in high-level exchanges that has deepened mutual understanding and trust.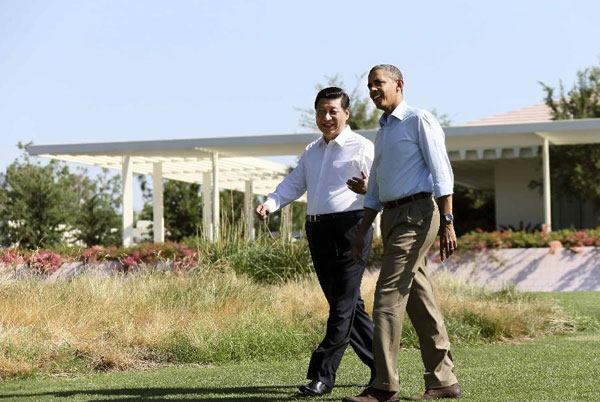 US President Barack Obama and Chinese President Xi Jinping walk the grounds at The Annenberg Retreat at Sunnylands in Rancho Mirage, California June 8, 2013. [Photo / Xinhua]
The most important outcome of this meeting was the consensus reached on building a new model of major-country relations between China and the US, charting the strategic course and blueprint for the future development of relations. Xi laid out a clear vision for this new model, whose essential features include no conflict or confrontation, mutual respect and win-win cooperation. Obama likewise spoke positively of a new model, and stressed the importance of the US and China exploring state-to-state cooperation on the basis of mutual respect and mutual benefit.
Since then, the two countries have worked diligently to implement the consensus, and reap an early harvest.
There have been close and smooth high-level exchanges, and full use has been made of the existing dialogue mechanisms. The fifth Strategic and Economic Dialogue in July produced outcomes in a wide range of areas, including new breakthroughs in economic and trade cooperation. A highlight being the agreement to start substantive talks for a Bilateral Investment Treaty on the basis of pre-establishment national treatment with a "negative list" approach.
Both sides are also committed to developing a new military relationship consistent with their new model of relations. There have been high-level visits and exchanges and both sides are holding talks to establish a notification mechanism for major military activities and the rules of behavior on military air and maritime activities on the high seas. The two navies recently conducted a joint maritime search-and-rescue exercise near Hawaii and a joint anti-piracy exercise in the Gulf of Aden. China will also attend the 2014 Pacific Rim exercises.