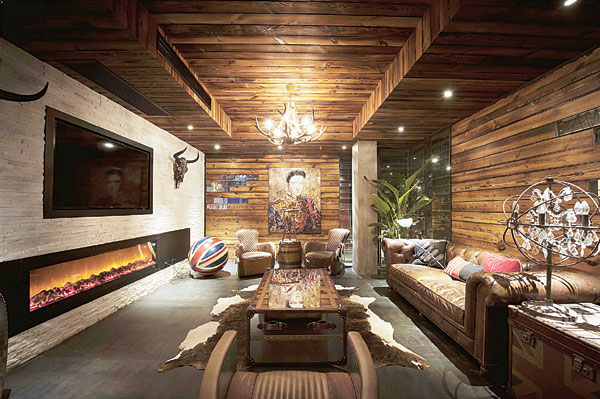 One of several cozy VIP retreats for post-presentation drinks. [Photo provided to Shanghai Star]
One of his club's handful of VIP rooms has a chandelier made of replica antlers, a brown leather sofa, an animal rug, a wall mosaic of Elvis dressed in livery, a gramophone, and a widescreen TV hanging above a widescreen fireplace.
Luxury Living offers two floors of stylish fun and entertainment as well as a modish-looking rooftop with sweeping views of the Cool Docks courtyard - various international restaurants and a central fountain - and Huangpu River.
Framed behind the river are the Oriental Pearl Tower, Shanghai World Financial Center and recently completed Shanghai Tower, which at 632m is China's tallest building.
Rolls-Royce, Porsche and Ten Cent have all rented the sixth and seventh floors for their corporate events and product unveilings.
"A lot of automobile companies like our venue," says Cao. "Our key selling points are the décor, location and river view."
Few will fail to be impressed by the fancy trimmings and lavish faux-antique furniture at this discreet location just south of the Bund's main drag.
One room has dark lighting, a brown leather punch bag (and matching gloves) and its own extensive mini-bar for something of a speakeasy vibe.
Overall, the wooden walls and roofing chime well with the iron floors, tungsten bulbs and bits of exposed piping for an industrial chic, homely hybrid.
The sixth floor can serve as a restaurant, nightclub or exhibition/presentation space.