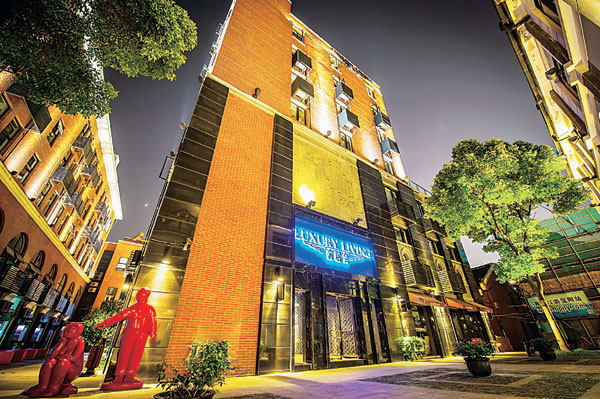 Behind its imposing facade is a fortress of chic antiques, luxury décor, VIP rooms, lounges and a grand ballroom. [Photo provided to Shanghai Star]
Luxury Living caters to corporate events with its classy blend of Anglophilic décor and Americana. Matt Hodges heads to Cool Docks for a lavish dose of English cool.
It is the gleaming aluminium, sawn-off section of an old airplane wing that steals the show in the seventh-floor karaoke room of Luxury Living, a three-floor club, banquet hall and rooftop terrace in Cool Docks that caters to high-end corporate events.
This piece of aviation memorabilia, which doubles as a chic lounge table, adds a Howard Hughes-esque billionaire-mogul inflection to the vintage aesthetic of both the room and property. This being Shanghai, the winding wall sofa had to be champagne-colored.
"The wing table is my boss's favorite," says Izam Cao, director of sales and marketing.
Despite billing itself as an English-style club, Luxury Living, which opened in August 2013, is also peppered with pieces of classic Americana. This gives it a more globally inclusive feel.
The décor is classy, cool and cozy, testament to owner Jacky Song's background and particular set of skills. Song, an entrepreneur from Shandong, clearly picked up cues from his family's furniture-making business before decamping for a spell to England.