Question: Who is more likely to buy a Jimmy Choo handbag from net-a-porter.com?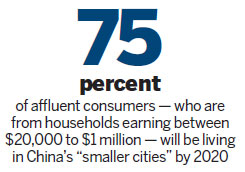 a) a fashion-savvy office lady in Beijing; or
b) a housewife in Zhangye, Gansu province.
Surprisingly, the correct answer is b.
A recent study conducted by the Boston Consulting Group says there will be 220 million affluent consumers, who are from households earning between $20,000 to $1 million, in China by 2020, and 75 percent of them will live in "smaller" cities.
Fashion analysis website fashionbi.com's marketing manager Marivi Avalos Monarrez indicates these people are the main consumers of online luxury platforms like net-a-porter.com.
"Now speaking in terms of online shopping, the trend is pointing again to consumers in smaller cities. It is now estimated that 250 million Chinese consumers will shop online this year and the average shopper in a fourth-tier city in China will spend 50 percent or more of their income on e-commerce than those in top-tier cities," Monarrez says in an e-mail interview with China Daily.
Zhao Shicheng, CEO and president of shangpin.com, agrees. He says most of the consumers are in the second- and third-tier, like Changsha in Hunan province, Hangzhou in Zhe-jiang province and Shenyang in Liao-ning province, and even smaller cities.
He adds these consumers are between 25 and 40 years old.
The website's statistics show the consumers who like to click to buy at home in smaller cities contributed 40 percent of the total sales early last year, but at present, it makes up 51 percent.