Shopbop: The company has maintained its English website's layout, general product offerings, as well as prices - when imported goods are normally more expensive in China due to the country's tax regulations. Photos Provided to China Daily
An increasing number of fashion and beauty product shoppers are turning to online sites in preference to bricks-and-mortar outlets, Tiffany Tan reports.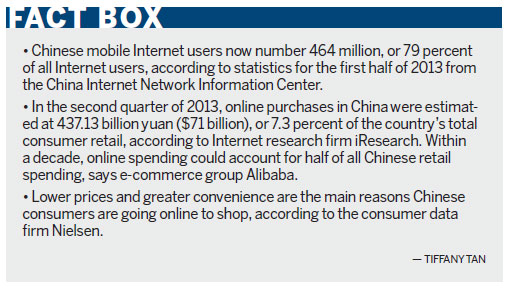 Lu Yiqing loves to shop but detests going to shopping malls. Instead, she spends about an hour each week browsing foreign online shopping sites for clothes, shoes, accessories, makeup and other beauty products. "Goods at local malls are quite expensive, and their prices usually don't correspond to their quality," Lu says, adding that the clothes and shoes she orders overseas usually cost a third of their price tags in China.
The 24-year-old Shanghai resident became a fan of online shopping - as well as British and Italian fashion brands - while studying for her master's degree in England two years ago. Now she makes a handful of purchases on her laptop each month while waiting for foreign retailers' big summer and Christmas sales.
Since product returns are free and easy, unlike Chinese online purchases, Lu says, she doesn't mind paying up to four times the domestic shipping rates.
Sun Qiong is another Chinese fashionista who stays clear of bricks-and-mortar stores. The new-media executive considers mall visits a "waste of time" since they often involve fending off overeager salespeople while not actually finding the things she needs.
"I'm the type of shopper who knows exactly what she wants," Sun, 39, says by phone from her office in Shanghai. "I've never liked salespeople following me around. I don't appreciate that kind of service."
Related:
Snapshots of Seoul Fashion Week
Success as much about hearts as soles
'Cool Japan' struts the runways in Tokyo