Race car driving now a woman's game, too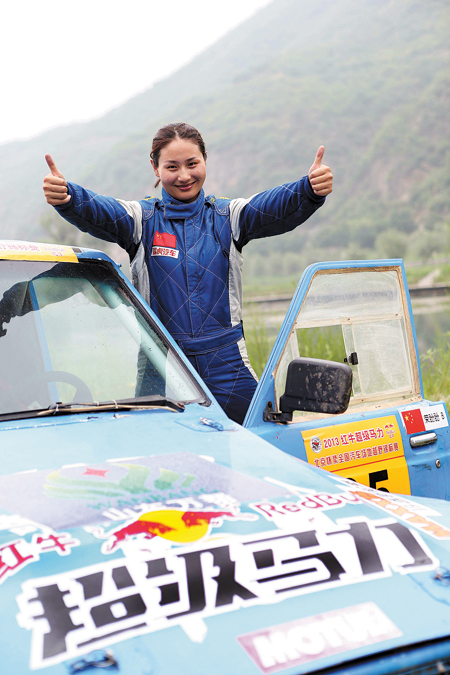 Photo provided to China Daily
Unlike some drivers who are wealthy and can afford the cost of maintaining a car and racing for fun, Rong says, she must strive for good results as a return to her driving team, which supports and pays her.
"There are normally three or four female drivers in each tournament," Rong says. "But some of them just lost confidence and left the circuit when they were unable to post good results.
"The females have no advantage at all when competing with men - in physical condition or knowledge about the mechanism," she says. "I had no idea about vehicle modification at the beginning, and am gradually grasping some knowledge about the chassis, engine and turbo supercharging. But the male drivers can fix the vehicles themselves when they find malfunctions."
Unexpected accidents happen, too.
At a rally at the Alxa League of the Inner Mongolia autonomous region, Rong and some other drivers took the wrong way and went down a 100-meter precipice. Fortunately, the car hit the ground instead of rolling.
At the Red Bull Championship in Beijing this month, the puddles were extremely deep due to the heavy rain. Because of the short and low design of the exhaust pipe of Rong's car, the black smoke generated was pushed inside the cab with water.
"This is the first time it happened, the water already reached my seat, all my shoes and suits were wet, and I had to open the door to release the water and smoke," Rong says.
In spite of the toughness of the game, Rong believes there is no gender difference in choosing a career.
"No matter whether you are a nurse or a racer, the achievement comes from the hard work," Rong says. "There were also male nurses doing much better than the females in my hospital, and I believe I can do better in racing because I love it.
"My goal is first to get into the top six in the rookies' group, and then become a regular hand in the final four," she says. "I want to break the male drivers' dominance of the game, and my dream is to participate in international tournaments like the Dakar Rally."