Race car driving now a woman's game, too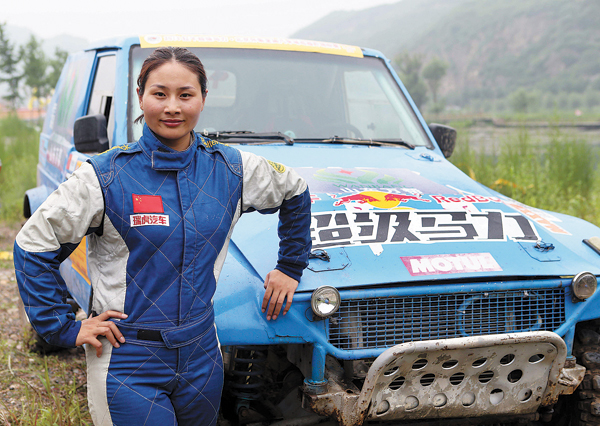 Rong Panpan makes her best-ever race last week, finishing seventh in the rookies' group at the Red Bull Super Powaer Chinese Circuit Off-road Championship in Huairou, Beijing. Provided to China Daily
With engines roaring, dust swirling and the occasional rollover, the racing circuit has long been seen as a world for men.
But female driver Rong Panpan is making herself a real challenger to the sport's traditional heroes. The 30-year-old, who started professional racing in 2011, just made her best-ever race last week. She finished seventh in the rookies' group (for drivers with less than three years of racing experience) at the Red Bull Super Power Chinese Circuit Off-road Championship in Huairou, Beijing, held from July 13-15.
Rong had already scooped up the best female driver award in national tournaments, though giving birth to her baby meant taking off a whole year to rest.
Despite Rong's impressive toughness as a female driver, she had little related background, except for driving an automatic car, before joining in the sport.
Her previous role was more like many parents' expectation for their daughters: Rong was an angel in white, working in a hospital for three years, before putting on the racing suits. "I saw an amateur off-road race when hanging out with friends, and one of my friends asked me if I wanted to have a try. It felt good, then I started to practice and become more and more obsessed," says Rong, who had her first professional race after just three amateur competitions in Shandong in May 2011.
"Both being a nurse and racing were my own choices, but the thrill of competing on the circuits turned out to be more dominant," she says.
However, when a hobby turns into a career, the joy is always tempered by the pressure of completing a duty.