Elixir of life
An ultramarathon runner has made raising public awareness of the water crisis his mission.
For Kevin Lin, a renowned ultramarathon runner from Taiwan, running for thousands of kilometers in extreme harsh climates is not only to challenge his limits, but for a higher purpose — to raise public awareness of water scarcity on this planet.
Since June 24, the 37-year-old athlete, together with his Canadian running partner Ray Zahab, set off from Mongolia for a nearly 3,200-km-long extreme adventure run across the perilous Gobi Desert. As planned, the two ultra runners will reach Guazhou county, Gansu province in northwestern China at the end of July.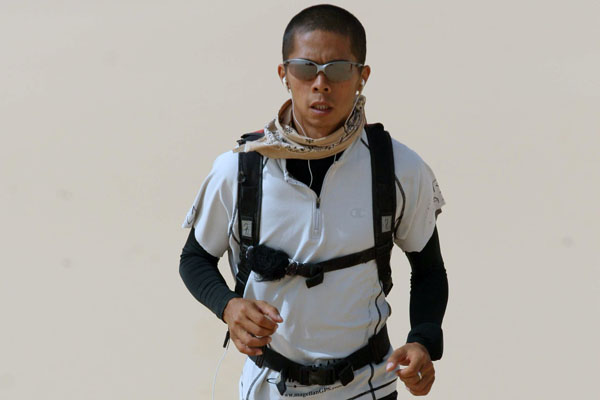 Kevin Lin ventures for his ultramarathon across the Sahara desert in 2007. Photos provided to China Daily
Lin says he found much fun in running when he was a little boy — he would always outpace his parents when they took him for a promenade on hills near his home in Taipei.
"The longer and faster I ran, the more interested I felt," he says.
But he had never expected this early hobby to lead him to a hazardous sport — the ultramarathon that involves running longer than the traditional marathon length of 42.195 km, normally in harsh environments.
After graduating from a physical education institute, Lin first tested his abilities in the 100-km race in Taipei in 1998. He broke records for three consecutive years, which was "totally out of his expectation".
In a 24-hour race in 2000, a British runner told Lin that he should not miss an ultramarathon in Morocco, which is seen as a pilgrimage for all professional runners of the world.
"At that time I lacked confidence, thinking that marathon was never the forte of Asian races. But the words planted a seed in my heart," he says.
He finally joined the race two years later. During the seven-day race, Lin had to bear his 7-kg backpack that carried food, clothes and tent, depend on a compass and replenish 1.5 liter of water every 10 km. He finished the 240-km journey, mostly in desert.
He still maintained the best result that has ever been achieved by an Asian athlete in this race. He later ventured into adventures in the Sahara desert, the Arctic snowfield and Amazon rainforest over the past decade.
"Many people asked me which one was more difficult," he says. "The truth is, each had its own difficulties."
"The Amazon rainforest was suffocating. With a temperature of 38 C and the humidity as high as 99 percent, the clothes were never dry. It felt like running in a sauna room and very exhausting," he recalls.
And the animals and insects in the rainforest posed deadly threats, he says, showing the scar left by a bee sting on his head in the Amazon jungle in 2004.
It was in this race that he got to know Ray Zahab, who thinks Lin is "reliable and strong".
"Kevin is an amazing athlete and also a good friend. It is so exciting that we could run every step together," Zahab says.
Packing for an ultramarathon requires skill. "Everything should be as light as possible. And I must be fully aware of the place where each item was stored so that I can get it from the package in five seconds," he says.
The skill is especially vital in the 600-km-long race across the Arctic in 2008, when the luggage he carried weighed 40 kg. "The speed of any movement in the snowfield was about three to four times slower than in ordinary environment, so you cannot waste any time in finding things."
But it was the Sahara desert that ultimately captured Lin's heart. In 2007, Lin together with Ray Zahab and US runner Charlie Engle accomplished the 111-day, 7,500-km race across the world's largest and arguably most hostile stretch of barren land.
His ability to push physical limits impressed many. Jeff Peterson, the team's doctor, says Lin was always energetic. "When we finished 6,000 km, Lin says they could speed up and ran 100 km a day. They did it and I was so amazed."
The runners had run in temperatures as high as 50 C, under the risks of crossing war-torn regions and even ran for 36 hours without sleep. The most painful experience for Lin was he could not have showers for many days. "I only took four baths during the 111 days," he says.
Lin says his experiences made him decide to dedicate his future adventures to raising awareness and funds to tackle the water crisis in the world.
"It was in 2006 when we were crossing the desert in Niger … I saw a little boy sitting in the vast desert, alone. His parents, who were local tribal herds people, traveled 300-km away to fetch water. The boy, 7, without a tent, had to spend three days in the desert. He only had a small piece of mutton and some water. If anything were to happen to his parents on their way back, the boy would die.
"Why not move to regions with wells? You may ask," he says, "because they were afraid of being bitten by mosquitoes and catching malaria."
"I was deeply disturbed and couldn't help feeling for the boy," he says. His following races, like the 150-day Silk Road Adventure in 2010, were all focused on raising awareness of the water crisis.
Lin says he did not receive any special training for the races, adding that experiences and techniques matter more than a young age because "young athletes who are not spiritually mature enough can not tolerate the torture of loneliness and pain in the long journey."
As for him, the way he gets rid of loneliness is listening to music on his MP3 player and meditating, which help him drive away the boredom of the race.
The adventures are full of unpredictable risks, but Lin holds that "it is not playing with life, it shows a respect for life".