The long way home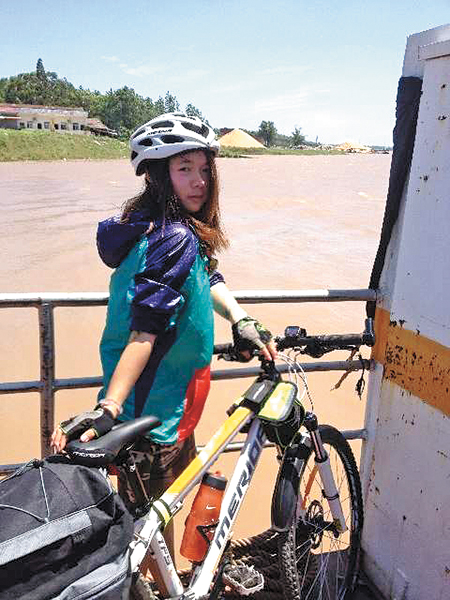 Liao Jingwen challenges herself cycling 1,200 km alone from Xi'an to her hometown Yichun, Jiangxi province, upon her graduation from university. Photos Provided to China Daily
A freshly minted university graduate begins her new life with a challenge: riding a bicycle across mountains and prairies for 16 days to return to her hometown. Once there, she tells Tang Zhe, she found a guardian angel in her rear-view mirror.
Do you still remember how you bid farewell to your campus life? Many years later, Liao Jingwen will do so easily.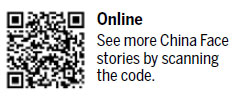 The 22-year-old graduate of Xi'an International Studies University spent 16 days cycling 1,200 km alone from Xi'an to her hometown Yichun, Jiangxi province. When she arrived home, she discovered that her father had been secretly following in a car so he could protect her if needed for the final 10 days.
Liao says she was just expecting to leave Xi'an, a city where she had lived for four years, in a slower way - and challenge herself at a memorable point of her life. In the end, it turned out to be a fulfilling journey for both daughter and father.
Liao was planning to join some friends to cycle from Xi'an in Shaanxi province to Xiamen in Fujian province. That didn't work out, but her interest was piqued. She decided to ride home alone but not tell her parents, who would definitely oppose the idea for safety reasons.
After reading a large number of riding tips on the Internet and prepare for the journey for a week, Liao set out with a bag of medicine, a set of professional cycling gear, a storage battery and two Superman T-shirts. She didn't expect it to be so grueling.
The fresh graduate, who hadn't cycled since middle school and only resumed it two weeks before departing, suffered the first blow on the very first day, when she was pedaling up a long slope in the starting city Xi'an.
"The temperature was more than 40 degrees, I felt dizzy, out of breath and even lost consciousness for a while," says Liao, who wrote on her account of the Chinese website Renren.com that she felt regret 17 times at the slope but pushed herself to go on.
Liao soon found the first day was nothing compared to the 400-km climb on roads of the Qinling Mountains. She clearly remembers when she finished a 9-km steep slope and an 18-km gentle slope against the wind - in tears. To make things worse, she was riding an oversized bicycle borrowed hurriedly from a man before she left, which caused her a lot of pain before she bought a woman's bike on the sixth day in Xiangyang, Hubei province.
The next day, the trip started to show its lovely face as Liao conquered the Qinling Mountains and reached the plains. Warmhearted orchard owners gave her fruits and invited her to eat at their homes. Almost everybody she met told her how to take care of herself on the road.