Cutting-edge knife skills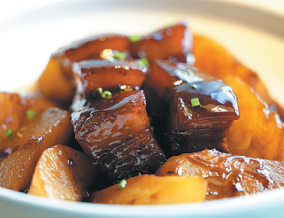 Red-braised pork belly with radish.[Photo by Zhang Zefeng/China Daily]
The soup is made by boiling chicken and pork bones for six hours. The broth's yellow color comes from soybean oil and chicken fat.
Then the soup is cooked with radish strips, dried shrimp, dried squid and ham strips.
Liu also adds some pepper to freshen the palate.
The liquor-preserved crab served in an ice ball is a highlight.
You have to crack the ball to see what's inside.
Crabs from Gaoyou Lake in Jiangsu province are first steamed and then braised with 15-year-old yellow rice liquor for more than 24 hours.
The yellow croaker with home-made rice cakes is a dish Liu learned from his master. Glutinous rice cakes soak up all the flavors of the dish.
Scallion oil noodles and pan-fried baozi are popular staples.
"Huaiyang dishes are not difficult to cook. You can cook them at home with fresh ingredients and simple seasonings," says Liu.