Cutting-edge knife skills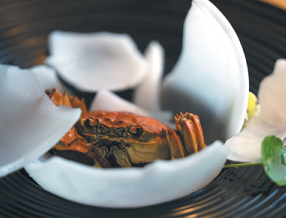 Liquor-preserved crab.[Photo by Zhang Zefeng/China Daily]
"When you put the slice on a page, you should be able to clearly see the words through it." The soup is chicken soup cooked for three to four hours before the matsutake is added and it is steamed for another hour.
The cut tofu is then put into the soup and steamed for two minutes before serving.
Stewing is another characteristic of Huaiyang cuisine, says Liu. "We don't use complicated seasonings, just the simples ones."
His red-braised pork belly with radish proves his point.
The pork belly is stewed for an hour and a half with rock candy, light and dark soy sauces and sugar. Each square piece is 4 cm.
The radish is separately cooked the same way as the pork belly but for a shorter time, says Liu.
"You should eat the lean meat first, then the fat ... so that you can taste the flavors," says Liu.
Radish is replaced by arrowhead in winter, when it's in season.
(Boiled radish strips are another traditional Huaiyang dish, but the radish can also be replaced with dried bean curd or wild rice shoots.)