Cutting-edge knife skills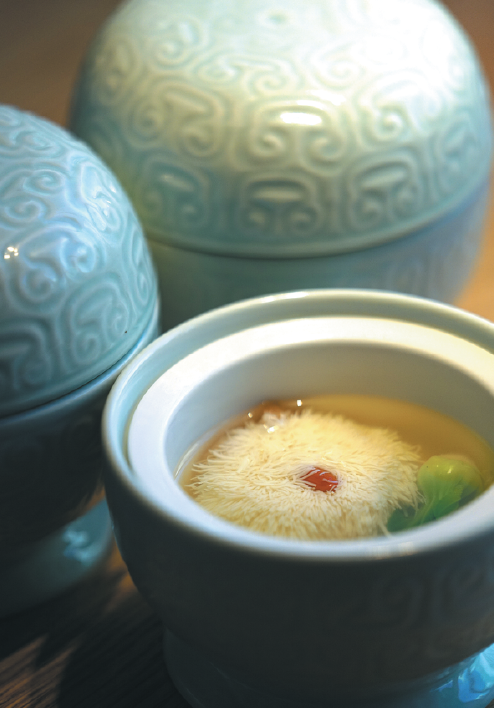 Matsutake "chrysanthemum" tofu soup.[Photo by Zhang Zefeng/China Daily]
A shuixiu sleeve - or classical, long sleeve - made using thousands of crystal sticks winds across the moss at the entrance and throughout the dinning hall.
"When I designed the restaurant, I wanted to see myself traveling back to olden times in Yangzhou, and the shuixiu sleeve dance performed in front of me," says Tang.
The bonsai, the rockery, the wooden chairs and tables, and the celadon dinnerware and rice paper on the table are all simple Chinese elements, she says.
"The black-and-white color can be interpreted as the white walls and black tiles of houses in Jiangnan, a region of China south of the Yangtze River; the black-and-white chessboard; or the Chinese ink paintings from Yangzhou Baguai," Tang says.
Yangzhou Baguai refers to eight famous Yangzhou painters in the Qing Dynasty (1644-1911).
Liu Yang, a chef of Youyuan Jingmeng and student of Hou Xinqing, one of China's most recognized Huaiyang cuisine chefs, presents his understanding of the Yangzhou lifestyle.
"Knife skills are one of the most remarkable features of Huaiyang cuisine," says Liu.
The matsutake "chrysanthemum" tofu soup is a real test for chefs since the tofu needs more than 150 cuts within three minutes.
Each petal is less than 1 millimeter wide.
"It takes a chef years of practice to cut like that," says Liu. "The first step is to practice slicing dried bean curd - a piece of 1-centimiter-thick dried bean curd has to be cut into 20 to 22 slices.