Cutting-edge knife skills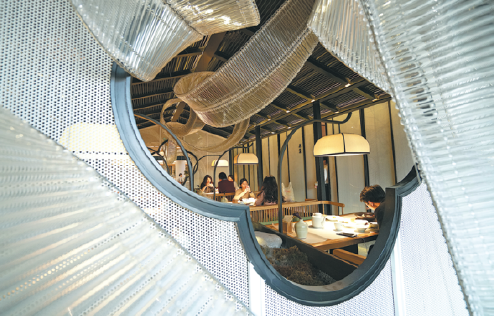 Youyuan Jingmeng restaurant in Beijing introduces Huaiyang cuisine and the Yangzhou lifestyle to the capital.[Photo by Zhang Zefeng/China Daily]
Youyuan Jingmeng, a new restaurant in Beijing, is giving foodies a classy look at Huaiyang cuisine and the Yangzhou lifestyle. Li Yingxue reports.
The Huaiyang dish Wensi Tofu gained a sharp reputation due to the intricate knife skills it requires thanks to A Bite of China, a popular documentary series about Chinese food.
But creating chrysanthemum-shaped tofu needs an even higher level of skill with a blade than Wensi Tofu and this dish is now available in Beijing.
Hua i y ang cuisine represents one of the four major cooking styles in China. The other three cuisines are Cantonese, Shandong and Sichuan.
It's a culinary tradition from the Huaihe and Yangtze river basins in East China's Jiangsu province that's famous for its knife skills.
Youyuan Jingmeng, a new restaurant on the ground floor of COFCO Plaza near Beijing Railway Station, is introducing Huaiyang cuisine and the Yangzhou lifestyle to the capital.
Youyuan Jingmeng is also the name of a chapter from a classical Kunqu Opera, The Peony Pavilion, which tells of a romance between Du Liniang and Liu Mengmei.
The play inspired the designer of the restaurant, Tang Yun, and she brought her understanding of the story to the decoration.