The early bird gets the best breakfast in Yangzhou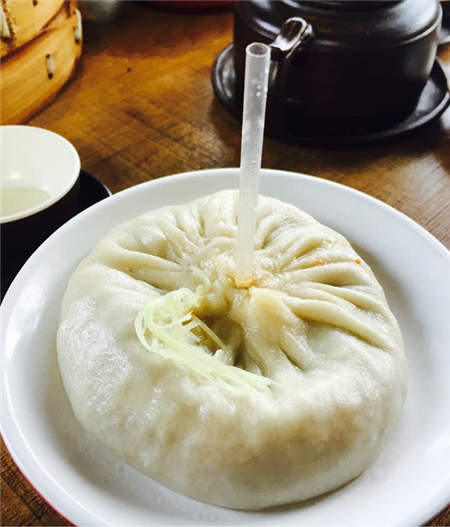 Xie huang tang bao, crab roe soup dumpling. [Photo/chinadaily.com.cn]
The final dish to arrive was what I had been secretly waiting for all morning, xie huang tang bao, or crab roe soup dumpling. Appearing on a stout pedestal and looking more like a cocktail than a breakfast snack, it is only apt that this dish comes with a straw. Staring up at me is a large bag or pouch made of the thinnest of thin dough. Inside the delicate orb is a fresh and fragrant crab roe soup. Now, every soup I have ever had has come in a bowl and swiftly moved via a spoon to my mouth or down my front – not in a small bag. This is where the straw comes in. By carefully piercing the skin of the dough you are able to slowly suck the delicious crab contents from within. This dish is truly a delight to behold and well worth a wait – it's fresh, aromatic flavor pervade the palette leaving me with a sweet aftertaste and ensuring my swift return.
After filling my belly and feeling utterly contented with my delicious meal, I ascend the steps and look back down on the courtyard – people still queuing to get a taste of what I just had.
As I walk to work, the morning sun crests the top of the trees in the distance and it dawns on me why so many people wake up every day for Yangzhou's Zao Cha – I think I'll start getting up early more often.