Restaurateur sees profit in graffiti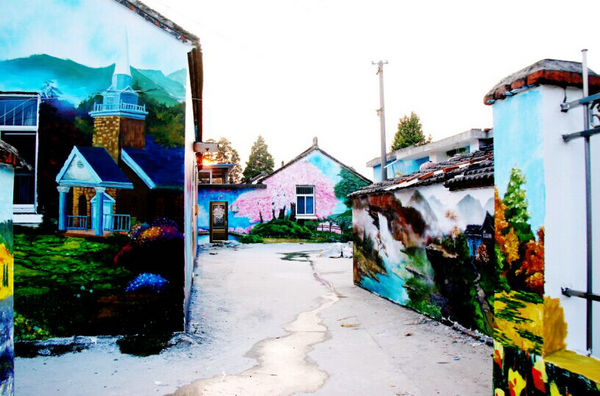 Outside walls in the village are decorated with colorful paintings. [Photo by Xu Zhenyu and Guo Jun/China Daily]
Ji Zhiming smiles every time he sees all the graffiti on the walls of the village. They not only please the eye, but will also bring him a fortune, he says.
The 63-year-old retired engineer lives in Guazhou village, which lies in the southwestern suburb of Yangzhou, Jiangsu province.
He plans to open a restaurant and make full use of his cooking skills.
"Some tourists have heard about our graffiti and paid a visit," said Ji. "Some knocked on my door to ask if I could offer them some food. They loved the fresh vegetables I grew by myself and the eggs I picked up from the henhouse."
To make the future tourists more comfortable, Ji has built a pavilion and grown various kinds of flowers in his yard. The engineer also designed a small fountain among the flowers.