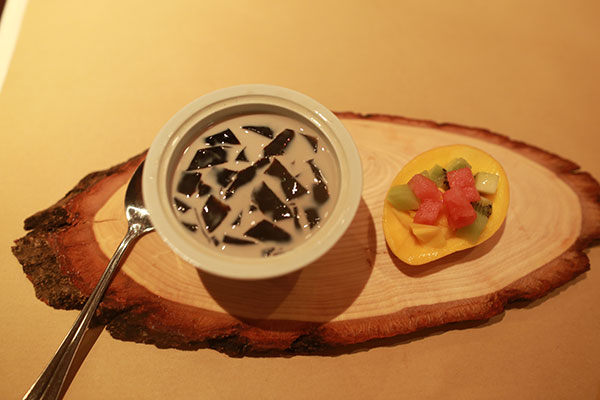 All Chinese dishes including tortoise jelly here reflect authentic Chinese culinary art while appealing to foreign palates. [Photo by Feng Yongbin/China Daily]
I tried fried and steamed buns stuffed with butter and chopped green shallots. The bun skin was golden and very crispy, while the inside was very soft. It had a pleasant mixed aroma of hot wheat, butter and shallots, which was deliciously appetizing.
Head chef Chen Linfeng says he was inspired by bread in Western meals to create the unique bun.
He fries chopped green shallots in pre-heated butter, stuffs them into buns and then puts the buns in the fridge for a few hours before steaming them. In this way, the bun skin will absorb excessive oil in the stuffing, making the dough soft.
Most of the menu, however, reflects authentic Chinese flavors with no compromise to Western style, although there are a few Western food choices, such as pizza and fried potatoes.
All the Chinese dishes are carefully selected to appeal to foreign palates, while also reflecting authentic Chinese culinary art, according to Cao. For example, there are no dishes made with animal organs, while popular dishes among foreign visitors, such as kung-pao chicken and yellow-fish fillets, are always on the menu, she says.
My favorite dish was stewed pickled vegetable with beef strips, something that requires passion and patience to cook. The chef boils beef strips for hours in broth enriched with seafood sauce, rib sauce and various Chinese herbs and spices, including dried tangerine peels, licorice, star anise and bay leaves, to season the beef and to get rid of any musky meat smell.
Then he takes the beef out and boils pickled Chinese cabbage stalks with konjac (yam paste) tofu in the broth.