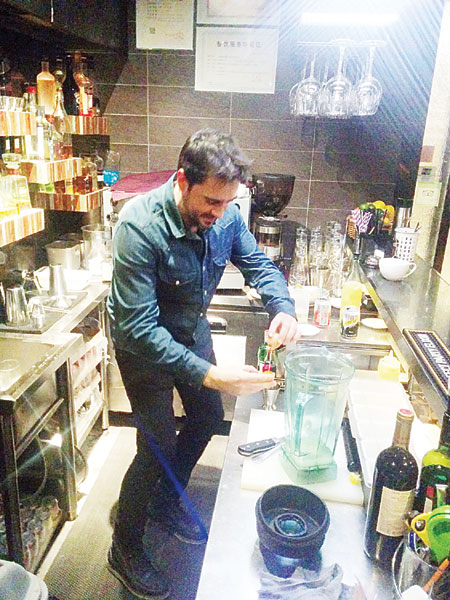 MIX MASTER: Gabriel shows that you can't make a pisco sour without breaking a few eggs. [Photo by Matt Hodges/Shanghai Star]
So kudos to Gabriel, whose exquisite blending of egg whites, grape brandy, lime juice, syrup and Angostura bitters will have you hankering at bars around Shanghai for a cocktail the bartender can't pronounce, let alone make.
Its creation myth dates back to 1920s Lima and an American expat called Victor Vaughen Morris. Legend has it he wanted to make a whisky sour but couldn't find any whisky, and hey presto.
El Bodegon is in the former French concession next to Fortune Cookie. Ceviche (the dish) is considered a hangover cure, which is ironic, because this is a fun place to get soused in. Go for the chilcano if you prefer ginger ale with your pisco, or the cinnamon-infused shots to get there quicker.
Ferro has from this month introduced tapas-sized portions for the mains so that diners can replicate the Chinese experience of ordering a banquet rather than gambling on one dish.
The beef is imported from Frigorifico Rioplatense, one of the top three cattle suppliers in Argentina; the limes and chilies come from Thailand; and some of the furnishings are recycled from, believe it or not, demolished Shanghai lane houses.
And for that revolutionary guerrilla flourish: A picture on the wall of el Che shaking hands with Chairman Mao.
IF YOU GO
Open: Tues-Fri 3pm-10.30pm, Sat-Sun 11am-10.30pm (closed Mondays) Add: 4F, 83 Changshu Road
Tel: 021-3160-3850