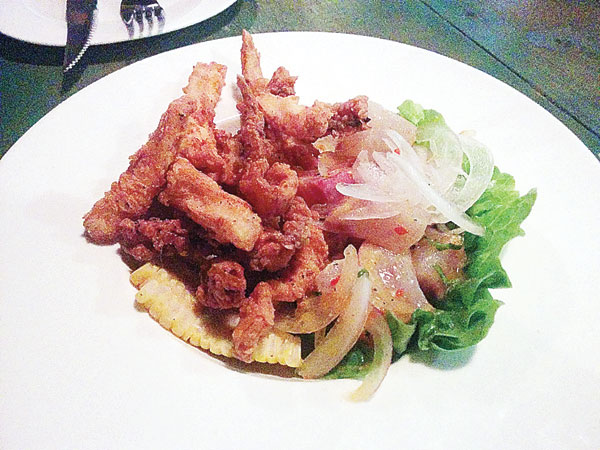 TIGER's MILK: The house ceviche comes with fried calamari, making the juice a perfect dip. [Photo by Matt Hodges/Shanghai Star]
Peru has more to offer than Machu Picchu, rainforest retreats and alpaca sweaters. Matt Hodges heads to El Bodegon to check out the world's original fusion cuisine.
El Bodegon offers eclectic Peruvian cuisine, imported Argentine steaks and a rustic Spanish tavern (bodega) ambiance courtesy of former Ceviche co-partner Diego Ferro.
The mains are a treat, especially the shredded chili chicken with yellow "aji" (pepper). But the side acts seal the deal.
Bartender Gabriel's pisco sour and the creamy, dense cheesecake served in a martini glass are the best in town. Throw in some house ceviche, with die-sized chunks of seabass and fried calamari to soak up the "tiger's milk," and it's the perfect storm.
Culinary treasure hunters may be miffed at the lack of cuy, or spit-roasted guinea pig served with a snarl, but that freakish Peruvian delicacy was best left off the menu.
The service is friendly, the soundtrack eclectic — "I don't want to listen to salsa music all day," says Ferro — and the promotions obscene.
Argentinians take their steaks seriously. The heart of rump is the choicest cut here as the rivulets of fat practically evaporate when cooked.
It is even better if you whack an egg on top, a practice borrowed from the French. French fries, naturally, are served on the side.
"It's not just a pretty face. It tastes as good as it looks," says Jeff Nobbs from San Diego. "We're pretty health-conscious and it's hard to find fresh-tasting food in Shanghai that isn't loaded with oil, so we love it here."