Esfahan on a plate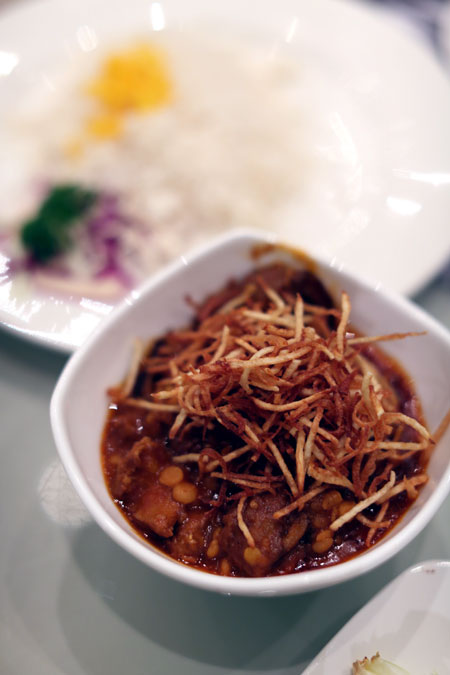 A lamb and eggplant stew topped with shredded potatoes [Photo by Wang Jing/China Daily]
Taster's choice
Since I'm neither Iranian nor Muslim, I just put my face in my plate and enjoy both places.
I've been a fan of Rumi Grill since I first tasted its fesenjen, which was as delicious as the version I'd tasted in the famous Esfahan restaurant called Shahrzad.
That distinctively sweet-and-sour stew, with its undercurrent of pomegranate, blossomed in Shahrzad's aura of stained-glass windows, luxurious Qajar-style murals and elegant black-suited waiters.
I didn't care as much for the Persepolis version, which was too tart for my taste and not like the "real" one I had in Esfahan.
But my Iranian friends here insist that both renditions are perfectly authentic: Rumi's leans to the Esfahan palate (sweeter) while Persepolis caters to northern Iranian tastes (sourer). If this argument sounds familiar, you've probably been stuck between foodies from Shanghai and Beijing bickering about whose grub is better.
So while both restaurants serve, for example, a fine fresh shirazi salad of cucumber, tomato, lemon juice and sumac, the latter herb and its distinctive bitterness is more assertive at Persepolis.
More rice dishes with a tart edge from barberries and dill will emerge from Persepolis' kitchen, too, while Rumi's diners seem keener on platters with saffron rice. You can guess which restaurant probably has more vinegar in stock, and which offers more desserts.
Both restaurants offer a pleasing array of kebabs, marinated to amazing tenderness in yogurt, lemon and spice combinations that are trade secrets.
Like bread, rice is central to most platters: basmati rice may be simmered with diced beef, baby lima beans or a fragrant mix of fresh dill, parsley, cilantro and spices. Zereshk polo is saffron rice topped with barberries and currants.
The decor of the two restaurants is even more different than the kitchen work, but again, both very authentic.
Rumi boasts a more universal look of elegance, with high ceilings, off-white walls and sand-colored reproduction antiques.
Persepolis, on the other hand, glories in the vibrantly colored tiles that might grace the courtyard of Abbas the Great.
You don't really have to decide which is better. But if you want to try, a culinary voyage of discovery awaits.
IF YOU GO
Rumi Grill
11:30 am-midnight daily; 1A Gongti Beilu (North road), opposite Zhao longHotel, Chaoyang district, Beijing; alcoholis not sold, but staff will open wine if you bring it; rumigrill.com.010-8454-3838.
Persepolis
10:30 am-10:30 pm; 1-3 GongtiBeilu; full bar.010-6532-4054.