Esfahan on a plate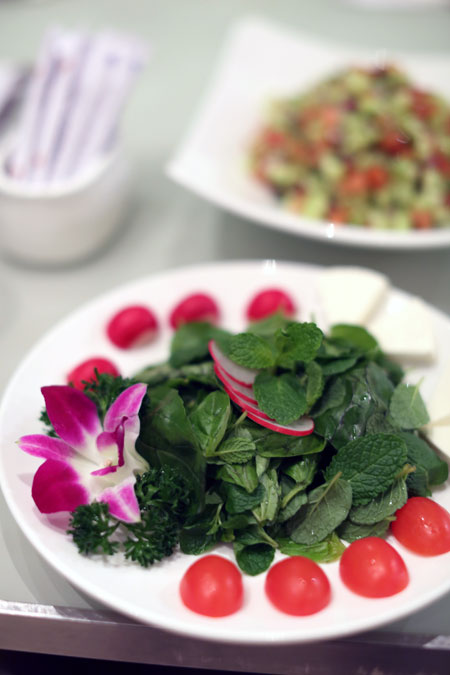 A salad of fresh basil and mint with radishes, scallions and cheese. [Photo by Wang Jing/China Daily]
Architectural wonder
Located in central Iran, Esfahan is a fairy-tale city of blue-and-yellow tiled walls, magnificent bridges and tranquil parks swarming with picnickers.
It was built around the immense Naqsh-e-Jahan (Imam) Square by the brilliant Shah Abbas I (Abbas the Great, 1587-1629), who took the Safavid empire to its peak and launched a new flowering of Persian culture. Abbas made Esfahan into a major Silk Road hub for traders in silk, spices, gold, silver and porcelain. He built his capital in an architectural spree perhaps only rivaled by China's Emperor Zhu Di, who moved his capital from Nanjing to Beijing, and began construction in 1406 on what would become the Forbidden City.
Esfahan is so grand, it was once renowned as "half of the world".
Robert Byron, author of the 1937 travelogue The Road to Oxiana, hailed Esfahan as "among those rarer places, like Athens or Rome, which are the common refreshment of humanity".
I suspect he had just eaten Persian food when he wrote the words.
For many food lovers who want to explore a foreign cuisine, the best answer is to go out to eat with a native of the country in question.
To find out what restaurant has the best traditional Persian food in Beijing, however, dining with an Iranian can sometimes add to your confusion.
For example, Iranian fans of near neighbors Rumi and Persepolis, located in the capital's expat haven of Sanlitun, are sharply divided on the question-though most have eaten at both places.
Some of the issues are more cultural than culinary: The venerable seven-year-old Rumi is run by an Iranian family of the Baha'i faith, and some Shia Muslims shun the place even though the restaurant does not sell alcohol out of respect for Iran's official norms.
Iranians in the Chinese capital in an official or business capacity often prefer Persepolis, an eatery on the same block that boasts former Iranian embassy chefs in its kitchen.
But Persepolis, sensitive to the secular business model of the entertainment-driven neighborhood, features not only an extensive alcohol menu but nightly belly-dancing, and those ladies really know how to shake it.