Esfahan on a plate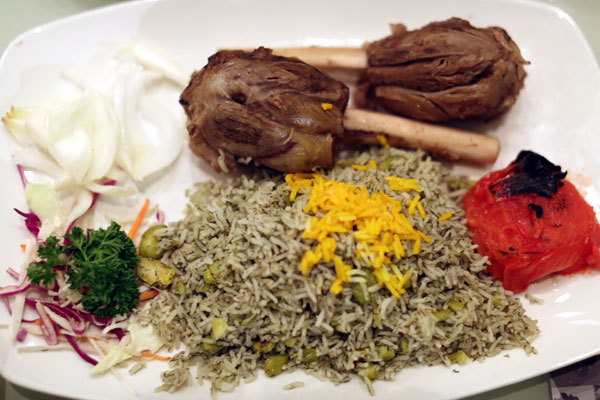 Lamb shank with broad bean and dill rice, and panir sabzi [Photo by Wang Jing/China Daily]
Nobody does meat on a stick better than Iranians, but classic Persian food is about much more, including earthy to elegant stews, Mike Peters discovers.
It was nutty. It was sweet. It was sour.
It was ... amazing.
When foodies discover a new dish, we reach for easy comparisons.
The phrase "It tastes like chicken" has become a joke ever since someone tried to describe tasting rattlesnake for the first time.
However, when I met my first bowl of fesenjen in the ancient Persian city of Esfahan several years ago, I was completely stumped.
I inhaled the steam coming off the rich, meaty stew and scooped a fragrant mound onto my fork.
A huge smile wreathed my face.
Eight minutes later, the bowl was empty-and my notebook was blank, too. I couldn't begin to describe it.
Eight years later, the rich stew of pomegranate paste, walnuts and chicken lingers in palate memory, recalling one of my favorite cities in the world.