Hunting for the original fresh pork moon cake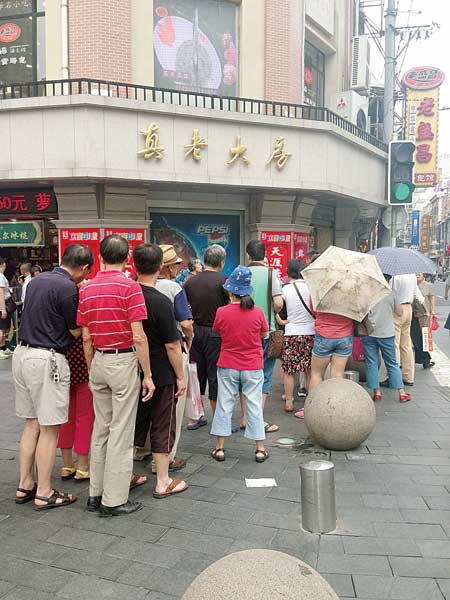 Popular product: Customers wait in line to buy moon cakes.
The popularity of this product inspired copycat tea snack stores, which all used the same name, Laodafang. Many businessmen believed as long as they called their store Laodafang, their products would sell well.
At its peak, there were a total of 48 Laodafangs across the city, all of which claimed they were the original. It took the local government a long time to probe the history of the Laodafangs and they granted the "Zhen" trademark to the original in 1937.
In the 1950s and 1960s, the crescent moon shaped dumplings became round, and were renamed xianrou shortcakes, but called xianrou yuebing during the Mid-Autumn Festival, according to Yao.
After reform and opening-up, Zhen Laodafang further developed their products, combining a wide variety of local snacks together. But the xianrou yuebing remains the hot favorite among all its products. In order to meet demand, about a year ago, Zhen Laodafang started to offer fresh pork moon cake for sale every day.
"Our positioning of the xianrou yuebing is as a casual snack throughout the year, and as a gift for friends and relatives during the Mid-Autumn Festival," says Yao.
During the lead-up to the festival, customers sometimes have to wait in line for six hours to buy the xianrou yuebing, which have a crispy and flaky outside, and savory minced meat inside.
Concerned about the robust demand, Zhen Laodafang increased its capacity by adding more equipment and staff in 2013, which greatly reduced the time spent lining up to under two hours.
"Daily maximum sales of the xianrou moon cakes reached 80,000 at our East Nanjing Road store last year, and we expect it to reach 90,000 or even 100,000 this year," says Yao, adding that each customer will face a limit of 40 xianrou yuebing on days close to the festival.
Apart from the xianrou yuebing, moon cakes stuffed with sweet bean paste, nuts, cedar nuts and black sesame, seaweed, and radish are also popular. Yao says they taste different from most of the Cantonese moon cakes because all the fillings are not smooth like paste, but retain a crunch.
"The secret is making them by hand. Only moon cakes made by hand can have the crunchy and chewy texture, while machines can only make stuffing in the shape of paste," adds Yao.
Unlike most moon cakes that are sweet, to reflect the sweetness of a family reunion, xianrou yuebing available in Shanghai and surrounding cities in Zhejiang and Jiangsu provinces, are salty, and favored by many gourmets.
The xianrou yuebing, which is a kind of Suzhou-style moon cake, is smaller in size and well-known for its layers of flaky dough and features both sweet and savory types.
The sweet version will be filled with sugar, fresh almonds, and sweet bean paste, while ham, pork or shrimp with lard, pepper, ginger, garlic etc will be added into salty fillings. Nuts and sesame are also frequently used in Suzhou-style moon cakes.
Unlike the Cantonese moon cakes which consist of a thin, tender pastry skin enveloping a sweet, dense filling of lotus seed past, sweet bean paste, jujube paste, and nuts etc, and served at room temperature, the Suzhou-style moon cakes are usually served hot.