An eclipse of the mooncake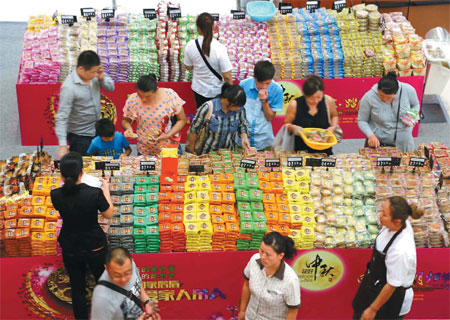 Customers select mooncakes at a supermarket in Xuchang, Henan province. Traditional mooncakes cost a few yuan apiece, but luxury varieties can go for up to 400 yuan per package of six to eight. Geng Guoqing / for China Daily
Sales of traditional palm-size pastries eaten during Mid-Autumn Festival feel the pitch of campaign to curb extravagance launched by nation's leader, reports Xu Junqian in Shanghai.
There is an old folk adage that well describes what China's mooncake market, and perhaps entire gift market is like: Those who eat (mooncakes) never spend a bit and those who buy never get a bite.
The sweet, palm-sized, square or round pastries that Chinese people have traditionally eaten at family gatherings during Mid-Autumn Festival for ages became a focal point, if not the epitome of China's gifting-giving culture and a penchant for luxury and extravagance.
Corporations give mooncakes - or vouchers for them - to business partners and government officials, subordinates to bosses and parents to their children's teachers to cultivate guanxi, or relations, whose importance might be illustrated by the Western saying: It's not what you know, but who you know that matters.
But the situation has changed radically this year, and the once-popular mooncakes have become almost taboo - following Moutai (Chinese liquor) and luxury banquets - widely shunned even weeks before Mid-Autumn Festival, which falls on Sept 19 this year.
Two events led to the change. First, President Xi Jinping implemented "eight rules" at the end of last year to fight corruption and reduce extravagance. Then, in late August, the disciplinary authority of the Communist Party of China issued a notice banning the use of government money to buy mooncakes as gifts during Mid-Autumn Festival and National Day Holiday, from Oct 1 to 7.
The disciplinary watchdog repeated the message in early September, instructing officials nationwide to avoid any lavish banquets and gifts, including mooncakes, paid for with public funds during the upcoming holiday.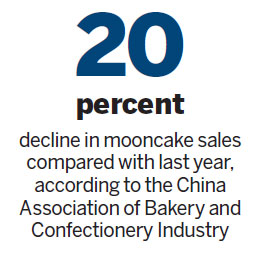 Mooncake sales drop
In a back alley in Shanghai near the headquarters of Xinghualou, the traditional bakery chain, mooncake voucher scalpers have gathered for years to "do business" as the festival approached. But the atmosphere is grim this year.
"It's unprecedented," a full-time scalper who gave only his surname, Shi, said recently.
Shi complained he hadn't "recycled a single mooncake voucher over the past weekend", while in previous years, the 40-something Shanghai native would collect scores of vouchers in a single weekday morning.
"The main problem is that nobody is coming to sell their vouchers because nobody is allowed to give them as gifts," he said.