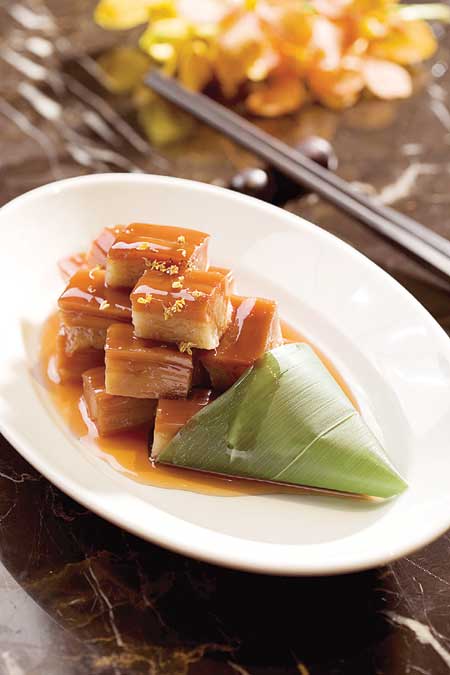 Sweet treat: Candied lotus root stuffed with glutinous rice and osmanthus jam. [Photo provided to Shanghai Star]
Taro and Duck
If mashed potatoes and turkey are the signature pairing in the American Thanksgiving meal, then taro and duck can be said to best represent the Mid-Autumn meal in Shanghai. Duck and taro are common enough ingredients all over China, and in the professional and private kitchens, there have been countless recipes developed with these.
The soup-loving Cantonese stew them together for a slow-cooked broth, which, according to the principles of traditional Chinese medicine, will moisten the dryness of the body in autumn. In east China's Yangtze River region, it becomes much simpler.
The taro is skinned, cut and stir-fried with scallion and salt, and cooked with duck, which may have been bought from a deli nearby. The most popular is the Nanjing salted duck, whose tender white meat is fatty but not greasy. The salted duck's fame has gone far beyond the capital city of Jiangsu province and made it to the tables of neighboring cities like Shanghai and Hangzhou.
Although it is available all year around, the autumn birds are considered the best, as connoisseurs believe that the ducks of this season are naturally scented with the sweet aroma of osmanthus flowers. To enhance that belief, some delis simply season their ducks with osmanthus.
In northern China, taro is often boiled, peeled and dipped into sugar, eaten as a staple in place of rice or noodles. And in the north of the country, the famous roasted duck reigns supreme on the dining table.
The most complicated "matchmaking" is crispy duck wrapped in mashed taro, a century-old recipe from Chaoshan cuisine, an off-shoot of Cantonese cooking famous for its deceptively meat-like vegetarian dishes. The Hong Kong-trained chefs from Li Xuan, arguably the best Chaoshan restaurant in Shanghai, tell us that it takes a minimum of three hours for preparing and cooking this duck.
But, the time invested is a guarantee of its delicious quotient. The best taro comes from the Guangxi Zhuang Autonomous Region, where the climate and soil nurture an especially firm but smooth textured taro from the district of Lipu. It is often paired with the short-necked rice duck from Guangdong province, a bird that has plenty of meat but relatively less fat. But the most important secret lies in the temperature of the oil for frying the taro. If the cook is skilled, the result is a firm and fluffy fried roll with juicy duck meat inside and a crispy covering of mashed taro outside. The golden roll is a real treat – satisfying the eyes, the lips, the palate and the stomach.
IF YOU GO
Xindalu
Address: 1F, Hyatt on the Bund, 199 Huangpu Road, Shanghai Telephone: 021-6393-1234
Li Xuan
Address: 3F Lippo Plaza, 222 Huaihai Road Middle, Shanghai  Telephone: 021-3330-1018