Artist paints her dreams, plants in vibrant spring colors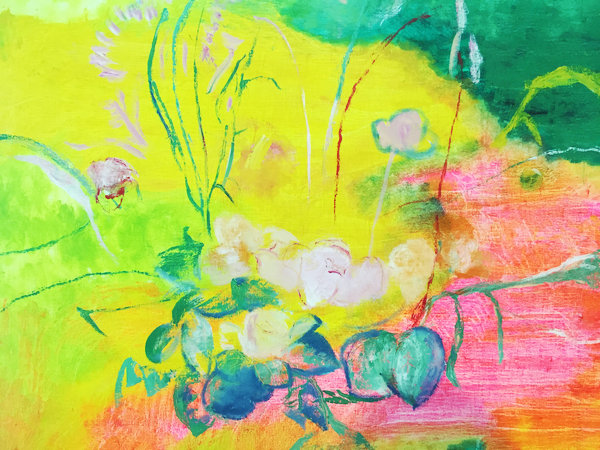 Jiang Jing's oil painting. [Photo by Li Hongrui/chinadaily.com.cn]
Spring colors shine with vitality and softness
Another series about plants and flowers is also a colorful feast for the eyes.
"For this series, the two colors I used most are pinkish red and yellow-green," Jiang said.
Such colors, blended together, bring out the healthy beauty and mild character of Mother Nature.
The curator of the exhibition, Susan W. Radovic, said Jiang's paintings have a gentle quality by using nuanced colors to bring a fresh, lyrical and feminine feeling to her works.
"Jiang Jing deconstructs the patches of colors to create spaces," Radovic said. "The longer you watch the paintings, the more you become aware of the very subtle use of shapes and colors to create a special effect. It is like looking at the world with eyes half closed, like a dream picture."