Trump's granddaughter wins Chinese hearts, again
A video recording from Xinhua showing Arabella Kushner, US President Donald Trump's granddaughter, singing Chinese songs and reciting Chinese literary classics caused another internet sensation in China Wednesday night.
In the video clip, Arabella, wearing a traditional embroidered Chinese dress, greets President Xi Jinping and his wife Peng Liyuan.
The six-year-old sings two songs Our Fields, Beautiful Fields, and My Good Mom. The former, written in 1953 and adored by Chinese teenagers for decades, expresses one's love and affection for the motherland and nature. The latter is a popular nursery rhyme widespread in China.
She also displayed knowledge about Chinese literature by reciting Three Character Classic, a Confucianist volume to educate young children, and two ancient poems of Li Bai, Watching the Fall of Lushan Mountain, and Departing from White King City at Dawn.
Xi spoke highly of the child's Mandarin abilities and said her performance deserved an "A Plus". He said Arabella was already a star in China and hoped she would visit China one day.
Numerous media websites and netizens reposted the video. It has received 2.3 million clicks on Sina Weibo, China's popular social media platform, as of press time.
"What a talented and smart girl she is!" Weibo user Yumeiren said. "I hope she can make more contributions to fostering China-US friendship in the future."
"Bravo, kiddo!" Alvin Valeriano said on Youtube. "Good ambassador of goodwill, you are Arabella. JIA YOU!"
Earlier this year, during President Xi's visit to the United States, Arabella has already performed for the president and his wife at the Mar-a-Lago resort in Palm Beach, Florida, on April 6. Standing alongside her parents, Arabella sang Jasmine, a Chinese folk song with her brother Joseph.
Following are two ancient poems recited by Arabella Kushner.
Watching the Fall of Lushan Mountain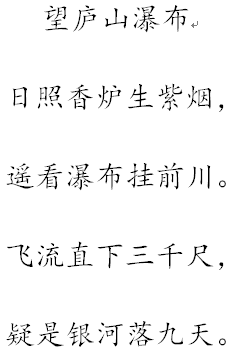 Sunlight streaming on incense
Stone kindles a violet smoke,
Far off I watch the waterfall
flunge to the long river,
Flying waters descending
straight three thousand feet,
Till I think the Milky Way has tumbled
from the ninth height of Heaven.
Departing from White King City at Dawn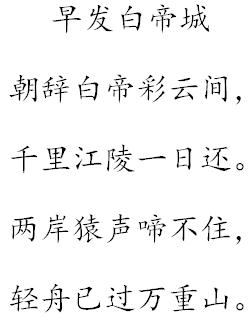 At dawn I left the walled city of White King,
Towering among the many-colored cloud;
And came down stream in a day
One thousand li to Jiangling.
The screams of monkeys on either bank
Had scarcely ceased echoong in my ear
When my skiff had left behind it
Ten thousand ranges of hills.