Artist paints her dreams, plants in vibrant spring colors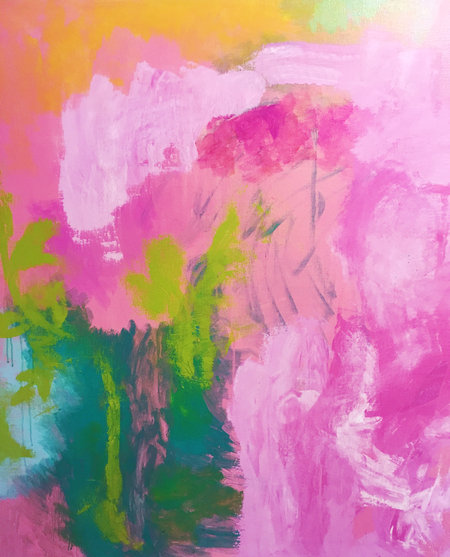 Jiang Jing's oil painting. [Photo by Li Hongrui/chinadaily.com.cn]
A dream spanning 10 years
"The exhibition includes two series -- one is about a dream, the other plants and flowers," Jiang said. "They are inspired by emotions and feelings."
In a black cashmere overcoat and gray boots, the 42 year-old painter still wore a teenage girl's shy smile when she spoke with China Daily Website.
Jiang just held her solo exhibition, Star and Moon Island, in October.
"The works displayed last month are very different from the ones here," the artist said, "They are more rational, and I used many dark colors, such as blue, black and white."
The paintings being showcased, however, are more soft and feminine, with plenty of red, pink, bright green and yellow.
According to Jiang, there is a story behind each work.
"The dream series is about a little girl's dream. The girl dreams of a little horse and they enjoy a period of happiness," the artist said.
"When she wakes up, she finds a wooden horse lying on a table. Yet compared to the horse in her dream, the wooden one looks more unreal to her."
The series about this dream took Jiang 10 years to finish.