Vase that was likely gifted by Qianlong Emperor breaks Irish record at auction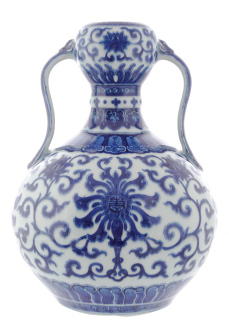 A vase from Qing Dynasty was sold for $825,000 at Sheppard's auction in Ireland. [Photo provided to China Daily]
A Chinese vase that auctioneers expected would sell for 1,200 euros ($1,336) has sold in Ireland for 740,000 euros ($825,000), an Irish record for a piece of art sold at auction.
The Qing Dynasty (1644-1911) blue and white double-gourd vase with scroll handles was sold by Sheppard's auctioneers in Durrow, County Laois, southwest of Dublin.
A man from Dublin put the vase up for sale. Sheppard's suggested a guide price of between 800 and 1,200 euros but several buyers sensed an opportunity.
Eleven telephone bidders competed for the vase, which was secured by a Paris-based buyer following seven minutes of bidding.
The item is believed to date from the reign of the Qianlong Emperor, the fourth emperor of the dynasty, who lived between 1711 and 1799. The vase is 23 cm tall and 18 cm wide and is painted with floral patterns and shou decorations. It has the mark of Qianlong on its base.
It is not known how the vase ended up in the Republic of Ireland but Irish broadcaster RTE reported that it could have been "given as a prestigious gift by the Chinese emperor to an important visitor".
Philip Sheppard, of the auction house, told a local newspaper that the high price for the vase was partly explained by the buoyancy of the Chinese art market. He explained that a great deal of the Chinese porcelain in Ireland today was brought into the country during the 19 th century, back when the British ruled Ireland. Last month, China Daily reported that a pair of rare Qing Dynasty famille rose vases sold for 13 million pounds ($16.8 million) at Christie's auction house in London.
The previous Irish record was set at an auction held by Sheppards in which a matchbox-sized piece of carved jade with a guide price of 4,000 to 6,000 euros ended up selling for 630,000 euros in 2012. The jade seal would have been used to mark official documents.
Related:
Ink-brush master receives high acclaim at China Guardian Auctions