Impressionist art by late Western maestros get revival in China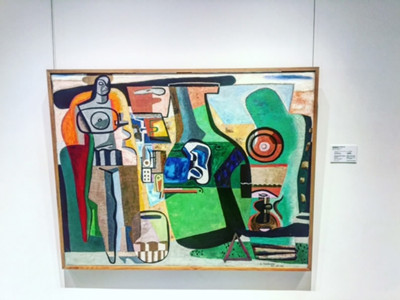 Le Corbusier's "Nature morte et figure", 1944. [Photo/CGTN]
It's basically life after death. World-renowned Swiss-French architect, designer and painter Le Corbusier is tapping into the Chinese art market: post-mortem.
The world's biggest auction house Christie's is taking a selection of Impressionist and Modern Art works of Le Corbusier, who passed away in 1965, on a mainland tour to Shanghai and Beijing this month, introducing them to top-end art lovers in China for the first time.
Among these are three oil paintings from the Heidi Weber Museum Collection in Zurich, Switzerland, which trace Le Corbusier's career from the 1920s to the 1940s. Le Corbusier's monumental "Nature morte et figure" completed in 1944, for example, can be seen as a summation of his work as a painter and architect.
The works will form a centerpiece of the Impressionist & Modern Art Evening Sale on February 28 in London. And more pieces are expected to go on sale in China in the future.
Giovanna Bertazzoni, deputy chairman of the Impressionist and Modern Art Department at Christie's, said: "These are embryonic investment opportunities that have not plateaued yet, they have a lot of expansion. Corbusier is very much the same thing. A wonderful artist, with great potential, that is still very much unknown globally, and for this reason his prices are not yet at the level they should be, and this is exactly what the Chinese market craves."
The backdrop is China's rapid economic growth, and a surge in the number of wealthy Chinese with pockets deep enough to afford pricey art. While President Xi Jinping's crackdown on corruption and the slowing of China's economy may have cooled demand initially, appetite for expensive fine art pieces is picking up big time.
According to Artnet & China Association of Auctioneers, the total sales value at auctions in the Chinese mainland continued to decline in 2015, falling 19 percent to $4.4 billion, compared to the 2011 peak of $9.3 billion. Despite the recent drop, the market still represents 32 percent of total global art auction sales.