Say 'I love you' with classical Chinese scroll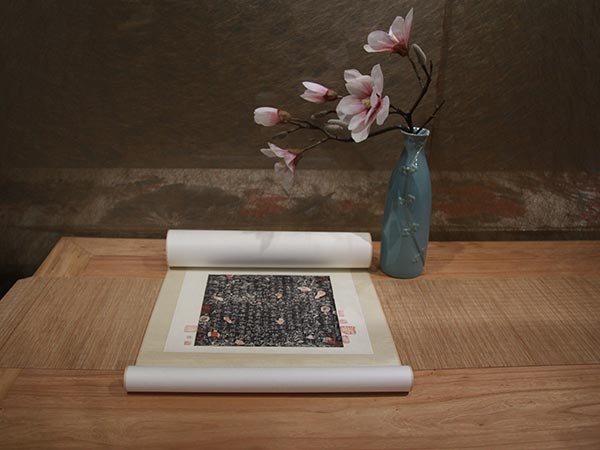 [Photo provided to chinadaily.com.cn]
While many people celebrate Valentine's Day with roses and chocolates, some choose to do it in a Chinese way: sending their girlfriends a long scroll of a Chinese painting with a romantic love story and poem.
The scroll was recently issued by Zaidao Culture, a publisher known for prints of ancient books and manuscripts by famous Chinese poets and calligraphers. On it is the romantic Ode to the Goddess of the Luo River, a signature work by Cao Zhi, the son of Cao Cao, warlord of the Eastern Han Dynasty (25-220). It tells the story of the son's enchantment with the goddess of the Luo River.
The print on the scroll is by legendary calligrapher Wang Xianzhi of the Ming Dynasty (1368-1644), whose work is now collected by the Capital Museum in Beijing. Accompanying the poem is a painting by ink painter Chou Ying of the Ming Dynasty. It shows Cao Zhi playing a guqin (a stringed instrument similar to the zither) as he gazes at the goddess.
According to Zhao Zhaoxia, founder of Zaidao Culture, many Chinese young people like this kind of traditional and cultural way to show their love.
Reproduced on rice paper and silk to represent the traditional way of Chinese culture, the scrolls are produced by Artron, an art publisher and art data company.