Chinese artists make a point at Westwood's Shanghai exhibition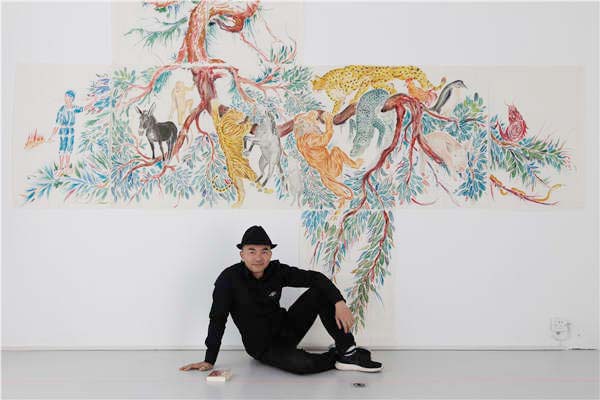 Artist Wu Junyong in front of his work at the ongoing Monument of the Peach Blossom Valley exhibition in Shanghai. Photos Provided to China Daily
Chinese curator Song Zhenxi wanted to impress fashion designer Vivienne Westwood at her first cross-over exhibition in China called Get A Life!.
The show, which opened on Dec 20 and runs through Feb 28 at K11 Art Mall in Shanghai, presents the British designer's cutting-edge collections and campaigns as dialogue with contemporary Chinese art.
So, Song put together seven contemporary Chinese artists' works in the Monument of the Peach Blossom Valley exhibition.
"Vivienne Westwood is a bold and pioneering brand, which tends to advocate ideas such as freedom and anarchy," Song says about his collaboration with the British fashion house.
The fashion brand is closely tied with social activities, instead of just being a luxury label for visual exploration, he says.
Westwood, 75, is best known for bringing fashion punk and new-wave styles into the mainstream as well as her involvement in campaigns for nuclear disarmament and climate change.
The exhibition opens with a handwritten note by the designer at the entrance, which says: "My enemy is the status quo ... The solution is switch to green energy!"
The note is signed by Vivienne Westwood, Fashion designer and activist.