Paper-cut art showcased in Malta to greet New Year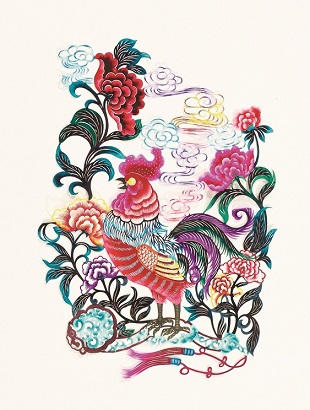 A paper-cut featuring a zodiac rooster is on display at the China Cultural Center in Malta, Jan 12, 2017. [Photo/Chinaculture.org]
As a prelude to a series of celebratory events to welcome the upcoming lunar New Year, a special exhibition featuring Chinese paper-cut artworks is being staged in Valletta, the capital city and cultural hub of Malta.
Over 50 paper-cuts are showcased at the China Cultural Center in Malta until Feb 2, including works by celebrated Chinese paper-cut master Ku Shulan, who was crowned "Master of Chinese Folk Art and Crafts" by UNESCO.
A group of craftsmen who practice the 1,500-year-old traditional folk art visited the Chinese cultural center at the show's opening on Jan 12, demonstrating ways to snip various patterns out of paper with a pair of scissors, such as flowers, butterflies and roosters.
The exhibition is part of the Chinese culture ministry's "Happy New Year" celebrations held in the city, which will be followed by more theme exhibitions, as well as performances, temple fairs and audio and video shows to spread the festive mood of the lunar New Year, or Spring Festival - the most important festival in China - to the Southern European country.