See globalization throught art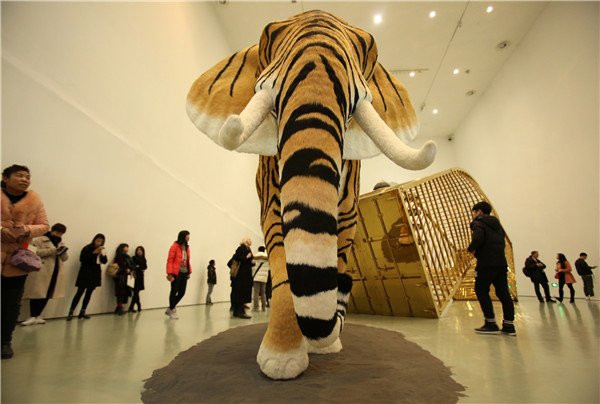 Chinese artist Tian Longyu's work, A Tiger-Swallowed-Elephant. [Photo provided to China Daily]
An ongoing exhibition examines the economic, social and cultural transformations of the BRICS countries. The works on display show how artists react to these shifts. Lin Qi reports.
Belgian artist Wim Delvoye is known for inventive but controversial works through which he reflects on the problems in a globalized world. The 52-year-old's mix-media installation, Cloaca No 5, is a machine he created with help from scientists, computer experts and designers. It mimics the human digestive system.
The device was assembled with parts manufactured by factories in different countries, similar to how many industries operate today.
Through his installation, Delvoye, who now lives and works in Teheran, Iran, reviews transnational capitalism, which offers jobs to workers in developing countries but also underpays them, and which has therefore profited big companies.
Cloaca No 5 is among the dozens of works on show at The Third Today's Documents, a three-month exhibition at Today Art Museum in Beijing.
The museum has held Documents shows in 2007 and 2010 to provide an academic perspective of contemporary creation.
The current event not only caters to art circles but also to the general public through creative, thought-provoking works, according to Gerardo Mosquera, the Cuban curator who has co-curated the current show with his Beijing-based counterpart, Huang Du.